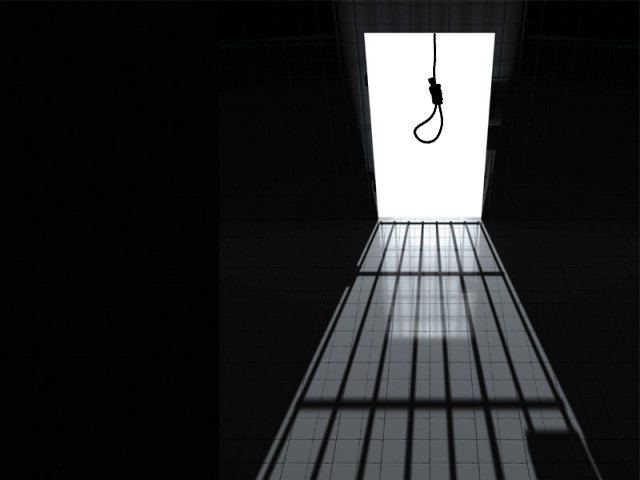 ---
PESHAWAR:

The Peshawar High Court (PHC) on Thursday stayed the execution of a terror convict by suspending the death sentence awarded by a military court, as well as, issuing a notice to the defence ministry for the case's record.

The order was issued by a two-judge bench comprising Justice Qalander Ali Khan and Justice Muhammad Ayub.

A writ petition was filed by Sadaqat Begum through her advocate Akhunzad Asad Iqbal, in which she prayed the court that her husband, Shakir Ullah, was innocent and has not been given the chance to defend himself in the military court.

The petitioner told the court that Shakir disappeared on April 19 of 2010.

The FIR in this regard was registered in Peshawar, but to no avail.

Iqbal said that back on June 11, 2018 the family received a letter that Shakir was detained at the internment centre Kohat and had been sentenced to death by a military court.

"My client is innocent, his trial was unfair as he wasn't able to defend himself against these charges," the advocate argued.

"It is unclear whether he has even been provided the services of any lawyer," he added.

Army chief signs death warrants for 12 hardcore terrorists

The lawyer argued that under the country's Constitution every citizen has the right to defend charges levelled against them in the court of justice for which he has also the right to hire a lawyer to defend himself".

"There is no record provided of the grounds on which the accused has been convicted,"he argued.

He implored the court to set aside the sentence as interim relief, as well as, issuing a stay order on his execution.

After hearing the arguments of the petitioner, the bench accepted the writ petition for the hearing and suspended the military court's order.

Moreover, the PHC issued a notice to the defence ministry asking it to produce the record of the case.
COMMENTS
Comments are moderated and generally will be posted if they are on-topic and not abusive.
For more information, please see our Comments FAQ