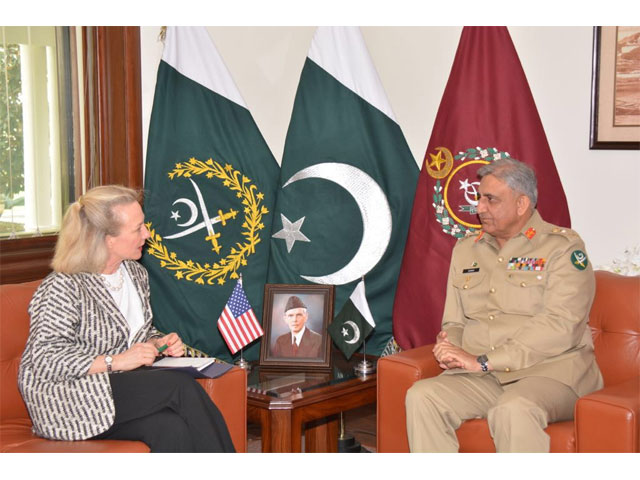 ---
ISLAMABAD: President Donald Trump's point person for the region on Tuesday held talks with Army chief General Qamar Javed Bajwa and discussed the role Pakistan can play in bringing about peace in Afghanistan.

Ambassador Alice G Wells, Principal Deputy Assistant Secretary, was in Islamabad to explore the possibility of resumption of the Afghan peace process.

During her visit, she met Foreign Secretary Tehmina Janjua, Finance Minister Shahshad Akhar and the army chief before leaving for Washington.

Top UN official lauds Pakistan Army's role in peacekeeping missions

During the meeting with the army chief at the GHQ in Rawalpindi, views were exchanged on issues of mutual interest, regional security and cooperation between both the countries, according to a hand-out issued by the military's media wing.

Ambassador Wells, the Inter-Services Public Relations (ISPR) said, said the USA commended the sacrifices and resilience of the people and armed forces of Pakistan and appreciated the role Pakistan Army has played in battling the scourge of terrorism.

"Both reaffirmed the commitment towards the common goal of peace and stability in the region and discussed measures towards that end. Both also agreed on continued engagement at multiple levels," the ISPR added.

According to a separate statement issued by the US embassy, Wells' visit focused on the role that Pakistan can play in achieving a peaceful resolution to the conflict in Afghanistan.

"Ambassador Wells discussed Pakistan's stated commitment to eliminating all terrorist groups present within its borders, as well as our shared interest in building economic and commercial ties that benefit both nations," the statement further said.

No further details were shared about the visit.

Official sources, however, said the US top diplomat wanted Pakistan to play a more proactive role in bringing the Afghan Taliban to the negotiating table.

Before visiting Islamabad, Wells in Kabul had said that Pakistan must do more to persuade the Afghan Taliban for peace talks. Her statement suggested that Washington is not yet convinced with Islamabad's efforts.