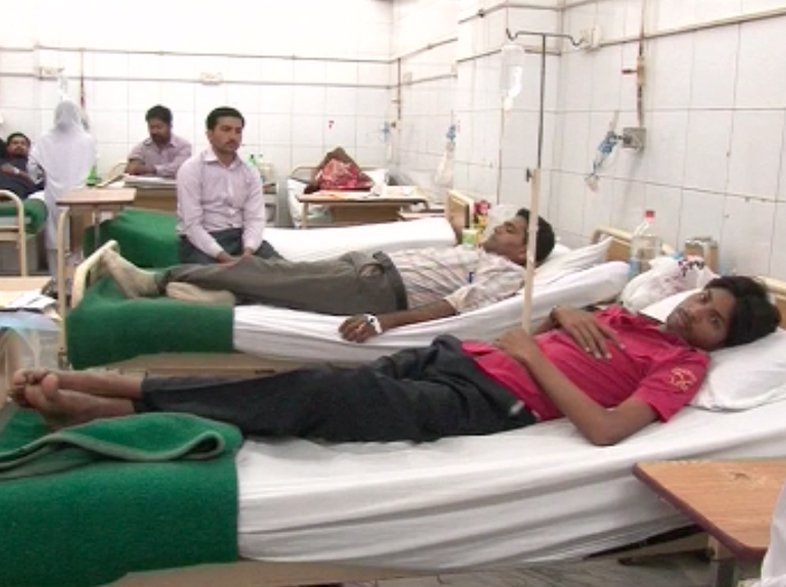 ---
RAHIM YAR KHAN: At least four people died of gastroenteritis over the last 24 hours in Rahim Yar Khan. The death toll rose to 13 in the district.

Hospital sources told Express News that three patients had died at Sheikh Zayed Hospital. One of the victims was identified as 45-year-old Salamti Mai, a resident of Khanpur. So far, 449 patients were provided treatment by hospital staff the last one month.

The data collected from different hospitals of the district revealed that in the last seven days, at least 207 patients were admitted to different health facilities, including 119 rural health centres and 104 basic health units.

Man dies of gastro, several hospitalised in Rahim Yar Khan

While speaking to Express News, Sheikh Zayed Hospital and College Principal Professor Mubarak Ali Chaudhry said most patients complained of diarrhoea, vomiting and dehydration.

He added that an infection in the gut results in gastroentiritis. "This causes inflammation in the stomach and the intestines and the patient may also experience symptoms such as vomiting, severe abdominal cramps, and diarrhea," he maintained.

He said people should consume boiled water and wash their hands before eating. Prof Mubarak Ali pointed out the main reason behind digestive disorders is the consumption of substandard food. He said most of the patients suffering from deadly ailments were either children or elderly people.

Jaundice claims seven more lives in May

At least seven more people died of jaundice after a deadly epidemic hit Rahim Yar Khan District earlier in May. The total number of casualties crossed 50, data collected by Express News revealed.

Doctors at Sheikh Zayed Hospital told Express News that seven patients suffering from jaundice were admitted to the health facility. However, their condition continued to deteriorate and they later died at the hospital.

The victims were identified as 37-year-old Rubina Bibi, a resident of Khanpur, Sania Bibi, 35, a resident of Mirpur Mathelo and 50-year-old Shamsa Bibi, a resident of Tarinda Muhammad Panah, 25-year-old Hasi Mai, Jam Mohana, 60, Muhammad Ramzan, 48 and 56-year-old Ilyas Ali.

Similarly, jaundice cases were also reported from different hospitals of the district, including Tehsil Headquarter Hospital Sadiqabad, Tehsil Headquarter Hospital Khanpur and Tehsil Headquarter Hospital Liaquatpur.

Increasing number of patients continued to throng hospitals in the district on a daily basis, but most lost their lives due to the lack of proper treatment and medicines.

Currently, the entire district of Rahim Yar Khan has been plagued with jaundice. In a district of more than 0.45 million people, hundreds succumb to the disease each year, while deaths are reported from every corner of Rahim Yar Khan.

Earlier, when officials from the local health department conducted jaundice tests on 100 people, it turned out that 95 of them had the disease. And now, there is a rise in the deaths related to jaundice in the entire district.

The only big hospital in the entire district is Shiekh Zayed where five to 10 patients affected by the disease are reported on a daily basis.

Data collected from Shiekh Zayed Hospital stated that more than 50 people have lost their lives in the district, while fears of more casualties cannot be ruled out.

Health experts said that the arsenic underground water, reuse of syringes, pollution and lack of filtration plants play a leading role in spreading this deadly disease. They added that raising awareness and concerted measures regarding prevention could help overcome the outbreak.

The experts added that the core reason behind the rise of this contagion is the increase in the levels of arsenic in underground water.

They added that a second reason was the lack of a filtration plant in 90% of the district, forcing the local population to consume arsenic water.

When Express News collected and reviewed test reports of the district's three rural health centres, two district headquarters hospitals and Shiekh Zayed Hospital, it transpired that 63% of the population had the disease.

Published in The Express Tribune, June 8th, 2018.
COMMENTS
Comments are moderated and generally will be posted if they are on-topic and not abusive.
For more information, please see our Comments FAQ