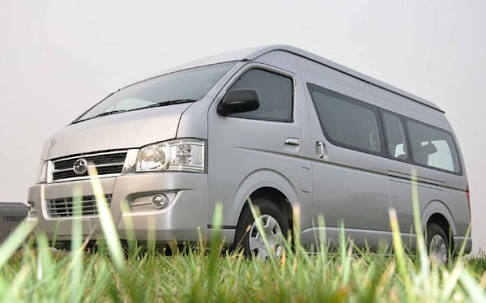 ---
LAHORE: Joylong Pakistan, a subsidiary of Jiangsu Joylong Automobile Co Ltd, has announced that it will provide light commercial vehicles to Pakistan's dilapidated transportation sector by importing completely built units (CBUs) from China.

The Chinese subsidiary further said that the company will offer at least four variants of passenger vans and a coaster, some of which are not easily available in the Pakistani market. The prices will be nearly half the prices offered by Japanese manufacturers.

"We have decided to target the commercial aspect of Pakistan's auto industry after thorough studies by both our Pakistani and Chinese counterparts," said Joylong Pakistan Chairman Rehan Meghani in an interview with The Express Tribune.

"The variants we are offering have added features with half the price of currently available commercial vans; this will definitely break the monopoly of Japanese manufacturers," Meghani added.

Jiangsu Joylong Automobile Co Ltd manufactures commercial minibuses, vans and related parts. It serves customers through a network of dealers in China and internationally. The company was founded in 2007 and is based in Jiangdu, China. Currently, it is importing commercial vehicles in around 60 countries with Southeast Asia, Africa and Oceania as its primary markets.

In Pakistan, Meghani is the sole dealer of Joylong, and previously worked with nearly all prominent auto manufacturers and got a firm idea of the transport sector and its pros and cons. He said that now China is becoming the hub of global auto manufacturers and Pakistan should take advantage of this global shift.

New auto players to invest over $800m in Pakistan

"Pakistan's commercial vehicle market was largely dominated by European and American brands till the 1970s. Then entered the Japanese auto manufacturers, who offered better quality and low pricing. After almost 40 years of monopoly by Japanese brands in the commercial sector, it is now China which will become the next in-thing for Pakistan," Meghani said, adding that many prominent auto manufactures now prefer China as hub of their production.

"China is also manufacturing high quality vehicles especially for export-oriented markets," he said.

Electric cars put China on automobile map

In Pakistan, there are a mere three cities that offer a proper mass transportation system through metro bus and train projects. The rest of Pakistan is largely operated by private transporters. Meghani believes that there is still 95% market available to be tapped.

According to market experts, till 2010, Hino Pakistan was the single largest company, which enjoyed 70% market share. However, now its share has dropped to 42% and Isuzu, another Japanese manufacturer, has managed to gain around 27%. "The Japanese monopoly will break as more and more auto manufacturers enter the Pakistani market. This will give greater choice to Pakistani transporters," he said.

Rickshaw maker Sazgar gets approval for car manufacturing plant

Initially the company will look to bring around 150 units per annum to Pakistan. According to its management, ambulances, tour operators and general transporters would be their target, since they need new vehicles at affordable prices.

"Our long-term plan for Pakistan didn't include increasing the CBU numbers only, we will closely monitor the markets and will go for production after three years of business and experience in Pakistan," Meghani said.

The writer is a staff correspondent

Published in The Express Tribune, May 21st, 2018.

Like Business on Facebook, follow @TribuneBiz on Twitter to stay informed and join in the conversation.




COMMENTS
Comments are moderated and generally will be posted if they are on-topic and not abusive.
For more information, please see our Comments FAQ