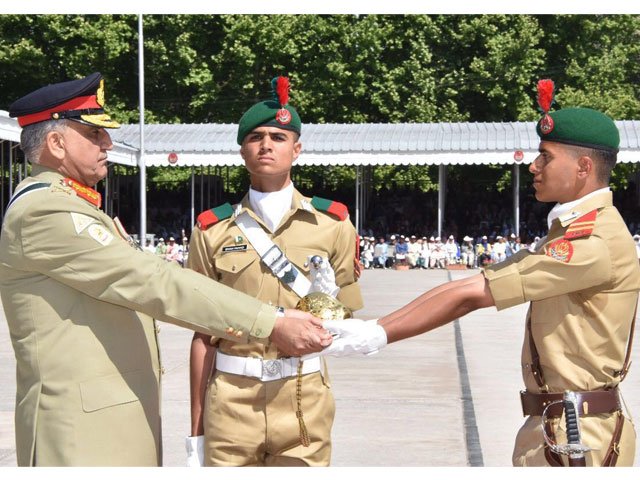 ---
KAKUL: Army chief General Qamar Javed Bajwa has said peaceful resolution of disputes between Pakistan and India, including the core issue of Kashmir, is only possible through a comprehensive and meaningful dialogue between the hostile but hyphenated states.

"While such dialogue is no favour to any party, it remains the inevitable precursor to peace across the region. Pakistan remains committed to such a dialogue, but only on the basis of sovereign equality, dignity and honour," General Bajwa said on Saturday.

The army chief was addressing the passing-out parade of 137th PMA Long Course, 8th Mujahid Course and 56th Integrated Course at the Pakistan Military Academy, Kakul.

He said, "Pakistan is a peace-loving country and it seeks harmonious and peaceful co-existence with all countries, especially its neighbours."

"However, this desire for peace must not, in any sense, be construed as a sign of weakness. Our valiant armed forces are Alhamdulillah fully prepared to respond across the full spectrum of threat in a befitting manner," he said.

"I also take this opportunity to express our complete political and moral support to the basic right of self-determination for the people of Jammu and Kashmir. Those peace-loving, innocent citizens are being subjected to one of the worst form of state terrorism," he added.

The army chief said it was high time for the world community to wake up and play its positive role to bring peace to that unfortunate part of the subcontinent.

Peace in Afghanistan

General Bajwa said Pakistan was also committed to peace and intra-Afghan reconciliation efforts in Afghanistan at all bilateral and multilateral forums.

"We sincerely believe that there will be no peace in Pakistan if there is no peace in Afghanistan. Our peace is linked. Therefore, we must work in unison with our Afghan brothers to achieve this goal.

"Moreover, we have done our part to cleanse Pakistan of the scourge of terrorism and extremism without any distinction and our efforts have started to bear results. We are committed to continuing these efforts, not out of any compulsion, but to make Pakistan a safe, prosperous and progressive country," he added.

The army chief said, "Pakistan armed forces are the custodians and upholders of this resolve – a resolve that is evident in the sacrifices of young men and officers." He called upon all the stakeholders within the region and beyond to let give peace a chance.

He said that Pakistan had totally rejected extremism and terrorism.
Need for internal unity

Gen Bajwa said: "We also refuse to be pulled asunder on issues of sect, ethnicity, caste or creed. The diversity of Pakistan is its strength. The very resilience of Pakistan comes, not just from our military capacity but from the synergetic mix of a people who have come together willingly towards a single purpose."

He said Pakistan's enemies knew that they could not beat it fair and square and had thus subjected it to a cruel, evil and protracted hybrid war.

"They are trying to weaken our resolve by weakening us from within. Had it been any nation than ours, it would have disintegrated by now. But since we enjoy complete confidence and support of our nation, we have defeated every move of these inimical forces and will Insha Allah continue to do so," he said.

"The nation and its armed forces are totally united and focused towards their primary objective of eradication and elimination of terrorism. As a result of past and ongoing operations, Pakistan has eliminated almost all organised terrorist presence and infrastructure from its soil, the army chief added.

"We are now going after the residual and scattered traces of this menace under the banner of Operation Radd-ul-Fasaad. The Operation Radd-ul-Fasaad is not merely an operation it was a concept, a resolve and a commitment of the nation to eradicate tumult from its soil," he said.

"Radd-ul-Fasaad is guided by our collective resolve and belief that we will neither get tired nor relent until the last terrorist is eliminated from our soil. Moreover, we are committed not to allowing our soil to be used against any other country," he added.
COMMENTS
Comments are moderated and generally will be posted if they are on-topic and not abusive.
For more information, please see our Comments FAQ