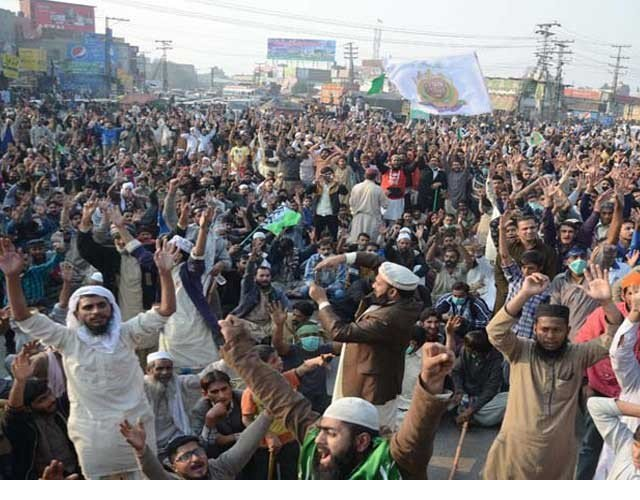 ---
The citizenry of the provincial capital continues to suffer as the Tehreek-e-Labaik sit-in outside Data Darbar entered its ninth day on Tuesday.

The almost 10-day long sit-in has resulted in business activities in the area coming to a halt, shutdown of schools in the adjoining areas and traffic congestion which has left the citizens agitated.

As a result, a large part of the lower mall road has been closed with containers and barriers while the road leading from Nasir Bagh to Minar-e-Pakistan has been closed for traffic.

The traffic from Nasir Bagh has been diverted towards Abdul Qadir Jilani road while the circular road has also been closed from Bhaati chowk onwards.

Commercial activity has suffered with furniture shops and a well-known bakery shut down for the past nine days.

There is a bird market right in front of the sit-in which now exhibits signs of isolation. Whether this situation will continue or not depends on the April 12 deadline given by the religious party to the government.

The deadlock has continued since government officials have not resumed the dialogue process. The protestors are demanding that the Faizabad agreement is enforced. The party's chief, Khadim Ali Rizvi, has warned that failure to meet the deadline will result in a country-wide strike.

Day seven: TLP vows to continue protest

Talking to The Express Tribune earlier, a party spokesperson said that government must fulfil the party's demands if they want to avoid any incident from occurring.

According to TLP leaders, the protest would be extended to other cities if the government fails to carry out the terms decided upon in the army-brokered Faizabad agreement.

The Lahore High Court (LHC) has also heard a petition seeking the removal of the protesters.

The petitioner, Abdullah Malik, contended that the protesters were violating people's basic human rights by blocking the road, adding that it was unconstitutional. He appealed to the court to issue orders ending the sit in.

TLP chief and TLYRA leaders were declared proclaimed offenders by an anti-terrorism court (ATC) in Islamabad. However, law enforcement agencies have been unable to make any arrests.

Punjab government Spokesperson Malik Ahmed Khan admitted that arresting Rizvi and other TYLR leader was proving to be a difficult task for provincial authorities.