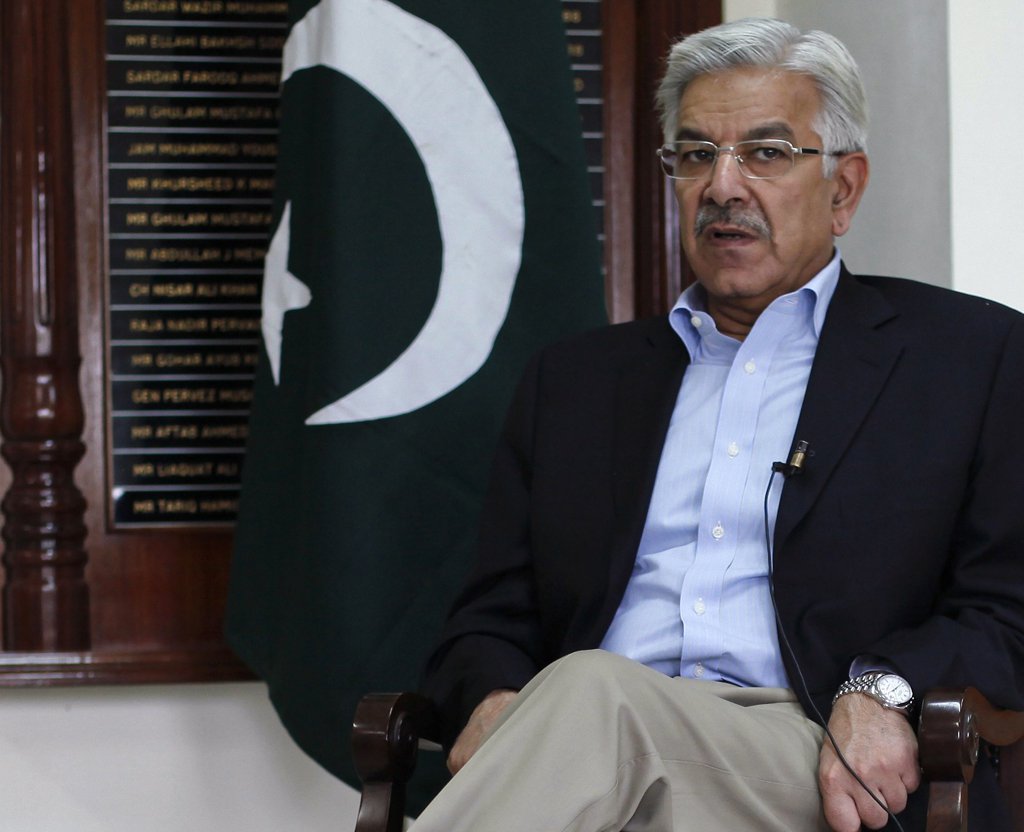 ---
ISLAMABAD: Pakistan won a last-minute reprieve at the Financial Action Task Force's meeting in Paris on Tuesday after member states failed to reach consensus on placing the country on the global list of countries that finance terrorism.

The announcement came from Foreign Minister Khwaja Asif in a midnight tweet thanking 'friends' who helped Pakistan avoid a major international embarrassment.

"Our efforts paid, FATF Paris 20 Feb meeting conclusion on the US-led motion to put Pakistan on watch list….No consensus for nominating Pakistan, proposing three months pause and asking APG [Asia Pacific Group] for another report to be concluded in June," Asif, who is currently in Moscow, tweeted.

"Grateful to friends who helped," he added.




Our efforts paid,FATF Paris 20Feb meeting conclusion on US led motion to put Pakistan on watch list
-No consensus for nominating Pakistan
-proposing 3months pause &asking APG for another report to b considered in June الحمداللہ
Grateful to friends who helped

— Khawaja M. Asif (@KhawajaMAsif) February 20, 2018


Foreign office sources attributed the success to Pakistan's frantic diplomatic efforts over the last few weeks. Although no details were available, sources suggested that China, Turkey, and Russia, all of whom are part of FATF, opposed the motion which was jointly-moved by the US and the UK against Pakistan.

After failing to arrive at a consensus, the FATF dropped its plan to table the motion for voting in its plenary session starting on Wednesday (today).

It is believed that Pakistan's recent move to ban Jamaat-ud-Dawa and related charities run by Hafiz Saeed played a crucial role in helping Islamabad's case.

Last Friday, President Mamnoon Hussain promulgated the ordinance that allowed the government to outlaw all organisations that are declared to be terrorists under UN Security Council resolutions.

US pushes motion to put Pakistan on global terrorist-financing watchlist

Ahead of the Paris meeting, Pakistan called the US move "politically motivated" with an aim to undermine the country's economic growth. Islamabad was staring at defeat and a major diplomatic setback as countries such as Germany and France also backed the US motion.

Pakistan remained on the global terror financing watch list from 2012 to 2015. Had the US move succeeded this time, Pakistan's economic woes would have multiplied. Not only the cost of doing business would have increased, but the foreign investment could have dried up as well, worsening the country's macroeconomic position which is already under pressure due to a widening trade deficit and falling foreign exchange reserves.

While delisting the country in February 2015, the FATF had noted that Pakistan made significant progress in improving its anti-money laundering and counter-terrorism financing regime and also established the legal and regulatory framework to meet its commitments in its action plan regarding the strategic deficiencies that the FATF had identified in June 2010.

However, Pakistan kept working with the Asia Pacific Group to address the full range of issues identified in its mutual evaluation report, in particular, fully implementing UN Security Council Resolution 1267.

Placing Pakistan on terror financing watch list a bid to destabilise economy: Iqbal

Miftah's moves

Pakistan had sent Adviser to Prime Minister on Finance Dr Miftah Ismail to plead its case to FATF members in Paris, along with other officials including the Financial Monitoring Unit director general, a finance joint secretary, and representatives from the State Bank of Pakistan (SBP) and the Securities and Exchange Commission of Pakistan (SECP).

Just a day before his departure for France, the adviser had returned from a weeklong visit of Europe where he had gone to convince FATF member countries about the actions that Islamabad has taken to remain compliant with global anti-money laundering and counter-terrorism financing regime.

The FATF is holding six-day-long meetings to discuss issues 'to protect the integrity of the global financial system and contribute to safety and security'. The meetings involve more than 700 delegates from the 203 jurisdictions of the FATF Global Network, as well as the UN, IMF, World Bank and other partners.

The plenary meetings will take place from February 21 to 23 and will focus on counter-terrorism financing and proliferation financing.

At present, the 11 jurisdictions are on the high risk and monitoring list of the FATF, which include North Korea, Iran, Iraq, Syria, Yemen, Ethiopia, and Sri Lanka.