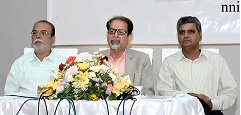 ---
The 10th Annual Youth Festival, organised by the Arts Council of Pakistan, Karachi, starts today (Saturday). The youth festival will continue till February 24.

Competitions will take place among 50,000 participants in 12 different categories. The winners of each category will be awarded a prize of Rs100,000.

If the registration would not have been capped at 50,000 people, the participants would have crossed the 200,000 mark and it would have been difficult to manage.

These were the remarks of Arts Council of Pakistan, Karachi President Ahmed Shah during a press conference on Thursday, which he addressed with Treasurer Shehnaz Siddique and Youth Committee Chairperson Asjad Bukhari.

Shah said that the Arts Council has been arranging the youth festival for the past 10 years and it has the honour of providing a platform to the youth to showcase their talent. The youth festival is unique this year because since the past six months, the Arts Council has trained more than 17,500 students and around 50,000 participants have registered for the festival, he said.

The 12 categories in which the competition will be conducted include: Urdu, English and Sindhi declamation, essay writing, dance, music, theater, painting, photography, quiz and short films.

Karachi Youth Festival kicks off today

Special workshops will also be arranged at the festival in the above mentioned fields. Shah said that arts and culture are taught as a subject in the whole world, but we lack proper education of this field.

The Arts Council provides proper education of these subjects and after studying here, many youngsters are offering their services in different fields, he said, adding that the main aim of the Arts Council is to promote arts and culture.

However, we think that we cannot remain indifferent to the needs of our society and because there are no institutes to provide education for arts, culture and music, we are fulfilling this responsibility, he said, adding that as the society is changing day by day, it has affected our youth the most.

Youth Festival held at the National Museum of Pakistan

If we will not change the mindset of the youth, we will have to face a collective loss, he said, adding that art and culture needs to promoted if we want to fight terrorism and promote peace and tolerance.

The closing ceremony will be held on February 24. Popular singers Nabeel Shaukat Ali, Asim Azhar and Hamza Akram Qawal will perform at the youth festival.
COMMENTS
Comments are moderated and generally will be posted if they are on-topic and not abusive.
For more information, please see our Comments FAQ