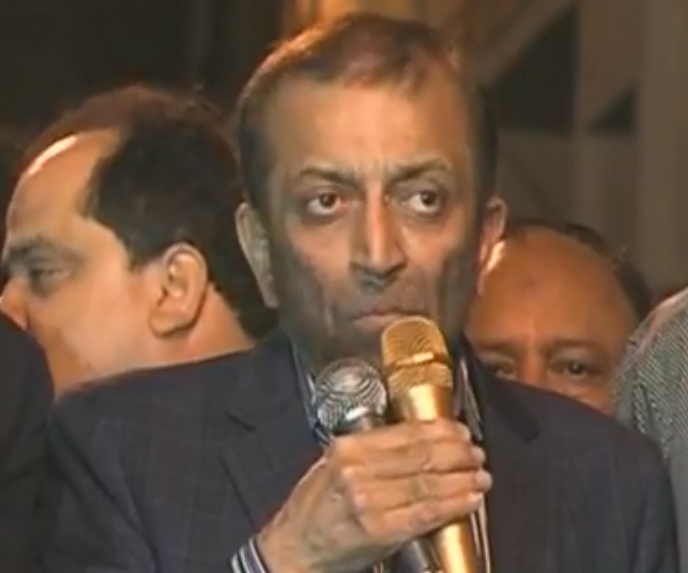 ---
KARACHI: [fbvideo link="https://www.facebook.com/etribune/videos/2201079766575704/"][/fbvideo]

Members of the Rabita Committee of Muttahida Qaumi Movement-Pakistan (MQM-P) took back their decision to curtail the powers of party chief Dr Farooq Sattar and held fresh talks with him at his residence. However, the differences between them did not go away.

Amir, Khan, Kanwar Naveed Jamil, Dr Khalid Maqbool Siddiqui, Wasim Akhtar and others visited PIB Colony to meet Sattar and vowed to work under his leadership. After the meeting, Amir Khan and others left for Bahadurabad without talking to the reporters.

Despite the latest parleys, it appears that the consensus eludes the two groups over party candidates in the upcoming Senate election.

Sattar, who addressed the media, late on Saturday, said the MQM was passing through a critical phase but hoped all issues would be resolved.

Salman Baloch rejoins MQM-P, throws weight behind Farooq Sattar

"Time and again, I [have] told you that the dispute is not on the seat of Kamran Tessori… there are some other issues. Kamran Bhai has given me the mandate of his Senate seat," Sattar told the reporters outside his residence.

"All issues were resolved three days ago, but suddenly they did not obey the decision," he said, referring to the Bahadurabad team. "We are one family and want to remain united," he added.

Sattar appreciated Rabita Committee's decision to withdraw its letter to the Election Commission of Pakistan. "I am ready to go to Bahadurabad once issues are resolved," he added.

Sattar has convened a general workers meeting in PIB Colony today (Sunday) which will be attended by party leaders and supporters from Sindh. He stressed that PIB and Bahadurabad should seek a way out and finalise the list of Senate candidates.

Earlier, there were reports that both groups had decided to convene general workers meeting by Monday to make important decisions. The reports suggested that "both groups are working on minus-one formula".

Timeline: MQM-Pakistan rift over Senate nominations

The PIB group wants to expel Amir Khan and others from the party, and the Rabita Committee members who have now set up their camp in Bahadurabad are considering expulsion of Kamran Tessori and Shahid Pasha from the party, according to the reports.

But Kanwar Naveed, the MQM-P Deputy Convener, rejected any rift between Amir Khan and Farooq Sattar. "There is no rift in the party and the perception about dispute between Amir Khan and Farooq Sattar is totally wrong," he said.

"There is a difference of opinion which will be resolved amicably," he said, while addressing a joint press conference with Amir Khan and Khalid Maqbool.

On his part, Amir Khan said he had no ambition to become party head. He added he "will never ever accept" the position of convener. "The workers are my assets and I want to continue as a worker too," he remarked.

MQM-Pakistan isn't going anywhere

Also on Saturday, MQM-P MNA Salman Mujahid Baloch, who had left the party and joined the Pak Sarzameen Party (PSP), changed his mind and returned to the Farooq Sattar camp on Saturday.

"The party is in crisis. I have come back to resume my responsibilities," he told a press conference.

Baloch appealed to the workers and leaders of the party to support the Farooq Sattar group. "Today, I have a different choice to make, so I have opted to join Farooq Bhai because Amir Khan has always hatched conspiracies, causing damage to party."

Baloch suggested other disgruntled leaders like Anees Qaimkhani and Irum Azeem Farooqi to join the PIB Colony group.
COMMENTS
Comments are moderated and generally will be posted if they are on-topic and not abusive.
For more information, please see our Comments FAQ