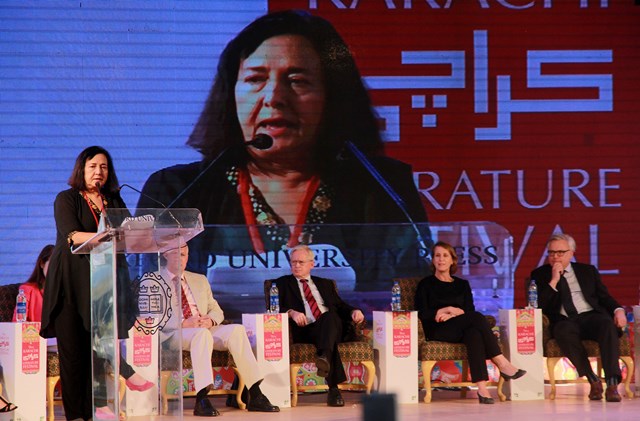 ---
KARACHI: The Karachi Literature Festival (KLF) paved the way for literature and cultural activities in the country, said writer Noorul Huda Shah.

It also gave space to the native languages of this land, which needs to be appreciated, she said at the inaugural session of the ninth KLF on Friday. "Literature, culture and art are necessary to keep nations alive," she said.

Oxford University Press (OUP) Pakistan Managing Director and KLF co-founder Ameena Saiyid said the KLF is not just an event; it is a movement. "It brings together books, reading, scholarship and the arts and celebrates them all," she said.

She said the KLF is the 'mother of all festivals in this country' as it has given birth to literary festivals in Lahore, Hyderabad, Faisalabad, Gwadar, as well as to music, film and theatre festivals. Inspired by the KLF, the Children's Literature Festival was also launched. She said the momentum begun by KLF has spread across Pakistan.

"There is much to look forward to over the coming two-and-a-half days of discussion, debate, dissent, literature, art and culture. The KLF is like a mini-university, a place where one can interact with some of the most creative minds," she told the audience. "It affords an opportunity to an emerging generation of Pakistanis to test their ideas and aspirations for a future divested of the colonial mindset and entering the fourth industrial revolution of artificial intelligence, robotics, machine learning. KLF draws from or touches upon every part of Pakistan," she added.

Second Multan Literary Festival launched at BZU

Saiyid said the KLF began and grew as an act of defiance against the forces of repression and intolerance.

"Through KLF we have been trying to give a message to people outside Pakistan that people do read books here," KLF co-founder Asif Farrukhi said. According to him, they have been successful in involving and engaging people in literature, especially the younger generation.

KLF is open to all and free-of-charge. It brings together authors writing in diverse languages and genres and features debates, discussions, book launches, readings, signings, comedy, satire, a book fair, theatre, film screenings, music, dance and mushairas in Urdu, English, and now Sindhi.

Over the years, KLF attendance has grown from around 5,000 in 2010 to more than 200,000 in 2017. In 2010, there were 35 speakers/performers. This year, the organisers expect around 250.

Saiyid told participants that this year, four literary prizes will be awarded - The KLF-Pepsi Best Non-Fiction Prize, The KLF-German Peace Prize, The KLF–Getz Pharma Best Fiction Prize and The KLF-Infaq Foundation Best Urdu Prize.

Additionally, the UBL Literary Excellence Award winners and the Eqbal Ahmad Centre for Public Education Video contest winners will be announced during the KLF as well.

Saiyid said that London Mayor Sadiq Khan said during his recent visit to Karachi that London was the greatest city of the world and that it was open not only for business and trade but also for culture and tourism. "As a citizen of Karachi, in whose streets I have run around and climbed trees, I say that Karachi is the greatest city in the world and it is open today –for business, culture, and tourism," she said.

Indian High Commissioner to Pakistan Ajay Bisaria appreciated the confluence of music, literature and poetry and said the festival is a very unique idea.

Larkana's first science festival to start on Wednesday

Also present at the inauguration was United States Consul-General Grace Shelton, who said literature crosses borders without any barriers. "Connections and new ideas are generated during the festival and this serves to inspire the minds of writers, scholars and academics and artists. It's the most anticipated cultural event in Karachi," she said.

We Germans are proud to be associated with the KLF, which is the nicest annual intellectuals' gathering in Pakistan, said German Consul-General Rainer Schmiedchen. United Kingdom Deputy High Commissioner Elin Burns said the KLF, through the rich literature of Pakistan, showcases both talent and diversity.

OUP's Adrian Mellor said access to literature allows opportunities to thrive. He explained that the choice we make of what to read is important.