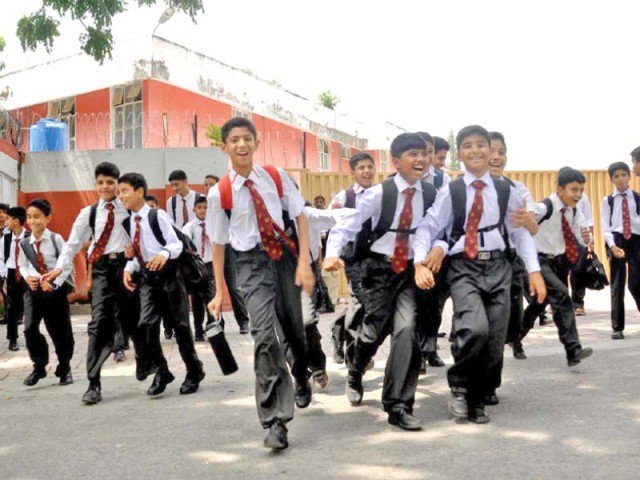 ---
ISLAMABAD: The future of thousands of students, teachers and the owners is at stake after private schools were asked to close in the cantonment areas of Rawalpindi.

Representatives of private schools have urged the Chief Justice of Pakistan to hear their point of view and allow them to function until an amicable resolution to the crisis can be found.

Last year on October 24, the Supreme Court had ordered that all private schools and commercial businesses set up in the residential areas or in cantonments must be shifted to other areas. Subsequently, the Military State Officer on January 12 issued notices to 25 schools in Rawalpindi cancelling their lease.

Representatives of private schools on Thursday held a news conference against the lease cancellation and announced that if schools are closed down in the cantonment areas, then other private schools across the twin cities would shutter their campuses and hold classes on the roads in protest.

All Pakistan Private Schools and Colleges Association — Rawalpindi Cantonment Chapter President Muhammad Ibraheem, said until 2001, station commanders use to issue no-objection certificates (NoCs) to open private schools and the cantonment boards kept receiving taxes from these schools.

Moreover, the education department also registered such schools but no one bothered whether the construction of these schools was illegal.

"Children, whether they live in villages, cities or in cantonments, education is their basic right," Ibraheem said, adding that the Cantt boards had only opened primary level schools while the private sector was filling the middle and secondary level gap.

"To target private sector institutions and to close these institutions was an injustice," he said, adding that the government only managed around 30 per cent of schools in Rawalpindi cantonment while the private sector catered to around 70 per cent of educational institutions.

If, given the pathetic conditions of government schools, there are some good educational institutions with proper infrastructure, the credit goes to the private sector for this," Ibraheem argued, adding that it was ironic how only schools were served notices while commercial centres and businesses have yet to be asked to move.

Expressing his discontent over the apex court's order, the APPSCA-RC chief said that a sweeping judgment had been issued affecting thousands of schools in a 15-year-old issue between two parties.

Ibraheem pointed out that his son studies in a high school he owns along with 1,000 other children.

"Since the school is in the neighbourhood, he goes with his mother. How can he now travel for an hour if the school is shifted outside the residential areas," Ibraheem questioned.

APPSCA Central President Malik Abrar Hussain said that in the current scenario, when new child abuse cases are surfacing every day, it was not safe to send children to schools in far-flung areas.

"It is a very serious matter and no one, including our legislators, has been able to understand its severity that the future of our children together with the goal of 100 per cent literacy will not be fulfilled," Hussain said.

While the number of private schools had increased, there had been a reduction in the number of government-run schools during the corresponding period, Hussain pointed out, adding that the government had failed in its responsibility to provide education under Article 25-A of the Constitution.

He went on to explain that poor standards of education in government schools meant that enrollment was tilted 60 per cent in favour of private schools.

Apart from ruining the future of thousands of children, he stated that closing private schools would overburden government schools. 

Published in The Express Tribune, February 2nd, 2018.
COMMENTS
Comments are moderated and generally will be posted if they are on-topic and not abusive.
For more information, please see our Comments FAQ