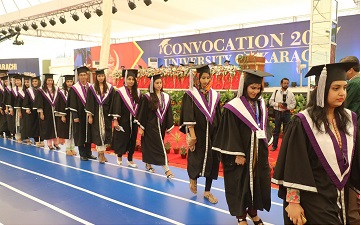 ---
KARACHI: As many as 1,962 students were awarded degrees at Karachi University's (KU) 28th annual convocation which was held on Saturday at the campus's Valika Cricket Ground.

Meanwhile, 187 gold medals were also awarded to students who secured first positions in their respective departments.

More than 10,000 people attended the convocation, making it the largest academic gathering of the country. Governor and KU Chancellor Mohammad Zubair presided over the convocation. In his address, he said, "It's a great honour for me to come at my alma mater as the chancellor". He added that KU is one of the most distinguished academic institutions of the country.

NUST Engineering Convocation: Degrees conferred on over 400 students

The federal government, in the Karachi package, has approved the establishment of a medical college and hospital at KU and this has also been announced by the prime minister. He announced that the groundbreaking ceremony for the medical college and hospital will be held in a month.

KU Vice-Chancellor Dr Muhammad Ajmal Khan said that in just a short span of one year, two convocations are being held.

"I am happy to say that KU is ranked 125th from a previous rank of 251st in the Asian universities rankings," he announced. He said that they took positive steps to improve the financial condition of the university.

"From now on, you are entering your practical life and you will act as a representative of the university," he said. Dr Khan expressed the hope that they will play an important role in the progress of the country and development of society.

1,027 students awarded degrees at SZABIST convocation

The VC commended all the teachers and administration staff for holding a successful convocation. He also congratulated the graduating students and their parents.

As many as 732 bachelors degrees, 993 masters, 127 Pharm-Ds, one MD, 21 MPhils and 73 PhDs were awarded. A student of the library sciences programme, Faiza Ahmed, told Express News that majority of private universities and educational institutes grant degrees in affiliation with KU.

"Today is an important day in my life and it is not possible for me to express this happiness in words," said Hira Siddiqui, a student of the economics department. She said her parents played a huge role in her success and helped her reach this stage in her academic life. She said that she can never repay her father for the favour he had done for her as there is no alternative to his hard work.

360 degrees awarded at AKU's 30th convocation

She expressed happiness as her dream had been fulfilled. Ahmed said her parents, along with her, had worked hard for this day. The percentage of girls receiving degrees was more, but those entering their practical lives are less, she said. However, she expressed the desire to implement whatever she learnt at the university in her practical life.
COMMENTS
Comments are moderated and generally will be posted if they are on-topic and not abusive.
For more information, please see our Comments FAQ