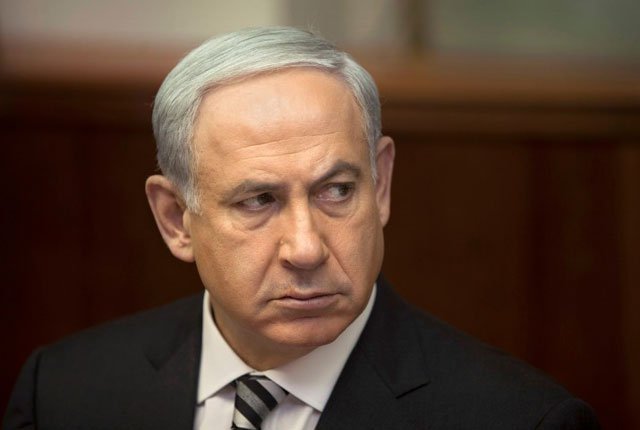 ---
KARACHI: Israeli Prime Minister Benjamin Netanyahu dismissed suggestions that his country's partnership with India is a threat to Pakistan, saying, "We (Israel) are not enemies of Pakistan and Pakistan should not be our enemy either."

Contrary to some media reports, the Israeli PM in an interview with Times Now categorically stated that Israel is not an enemy of Pakistan.

Netanyahu made the response while responding to a question regarding Pakistan issuing "a very bellicose statement" on the Israeli premier's visit to India.



Emerging nexus between US, Israel and India threat to Muslim World: Raza Rabbani

To a question on whether Israel would endorse India if it undertakes a 'surgical strike' against Pakistan, Netanyahu said, "We have some understanding," before changing the subject.

Netanyahu also clarified that Israel's partnership with India is directed to four things and not to some specific country. "Its directed to achieve greater prosperity and greater security for our people, better health, cleaner air, clean water, more productive crops, more milk per cow," he said.

Throughout, the interview the Israeli PM emphasised that his visit to India had an economic focus rather than a military one. He skirted around a question on whether Israel would support India if it launched an attack on Pakistan.

He also claimed, "Israel is no longer viewed by most Arab countries as an enemy, but as an indispensable ally in their battle against radicalism."

Israel says India to restart talks on missile sales

No Modi-Abbasi meeting

There are no 'plans' for a bilateral meeting between Prime Minister Narendra Modi and his Pakistani counterpart Shahid Khaqan Abbasi on the sidelines of the World Economic Forum (WEF) meeting at Davos next week, Indian media reported on Thursday.

Prime Minister Shahid Khaqan Abbasi and Pakistan Peoples Party chairperson Bilawal Bhutto will be among the heads of state and government and international organisations, who will attend the annual meeting of the World Economic Forum (WEF) opening in Davos on Jan 23.

The government delegation will include Foreign Minister Khawaja Muhammad Asif, Minister for National Health Services, Regulations and Coordination Saira Afzal Tarar, Minister of State for Information Technology and Telecommunication Anusha Rahman and Information Minister Marriyum Aurangzeb.

Pakistan will not compromise on national interests under any circumstance: Asif

"As far as I am concerned there are no plans for meeting with the Pakistani prime minister," External Affairs Economic Relations Secretary Vijay Gokhale told reporters. Modi would address the opening plenary on January 23.

He was responding to a query on whether Modi would be meeting his Pakistani counterpart as the latter would also be there at WEF on the same day.

When asked whether Modi would be meeting US President Donald Trump, he said the two will not be there on the same day.

This would be Modi's first Davos visit and also the first by an Indian prime minister since HD Deve Gowda in 1997. Trump would be the first US President to attend since Bill Clinton in 2000.

To a question on whether Modi is sending a message by not meeting Trump at the event, which has the theme of 'Creating a Shared Future in a Fractured World', Gokhale said there were never any plans for the two leaders to meet.

"Besides, this is a multilateral event and the Prime Minister's central message will be that we are an economy that can be an engine of global growth. We want others to participate in our growth and we also want to participate in others' growth," he said.

There were never any plans for the two leaders to meet and therefore whether they are present at the same event and are not meeting is not important, he said, adding, "Our focus has always been in a global economy that is open and inclusive".
COMMENTS (14)
Comments are moderated and generally will be posted if they are on-topic and not abusive.
For more information, please see our Comments FAQ