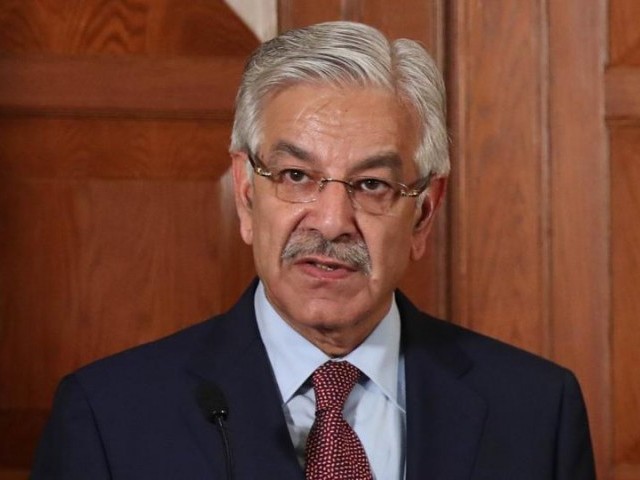 ---
Foreign Minister Khawaja Asif on Wednesday said Pakistan will not compromise on national interests under any circumstance.

In a Senate formed parliamentary committee over foreign policy the foreign minister stated that Pakistan's relations with the US are not at par and that there's still friction between the two nations.

He said that the US has not shifted its position and our reaction still stands where it did before, however, we do wish to have a balance in relationship with the US. "We have conveyed our message to the US military and political administration saying Pakistan does not want any aid and Pakistan will not compromise over is national interests. The US must stop putting the blame of its own failures on Pakistan," Asif maintained.

Over the fatwa on terrorism and jihad, Asif said "a suicide bomb is a suicide bomb whether it happens here or on the moon and it is against the preaching of Islam." The fatwa only reaffirms that killing people under any situation is unacceptable.

More than 1,800 Pakistani religious scholars have issued an Islamic directive, or fatwa, forbidding suicide bombings, a book due to be unveiled by the government.

1,800 Pakistani religious scholars declare suicide bombings 'haram' in new fatwa

He also said that the Afghan Taliban coming to Pakistan is not under their notice. China has shown interest in spreading CPEC till Afghanistan and Pakistan throws its weight behind this decision.

Asif said that over 60,00 to 70,000 Afghan refugees travel from Afghanistan to Pakistan and Pakistan has given refuge to the Afghan people but its not possible anymore. "We want better border management and return of Afghan refugees now," foreign minister noted.

Earlier, Asif said India and Israel have anti-Islam nexus, which is evident from their occupation of Muslim territories.

In an interview with a private channel, he said India has occupied the territory of Kashmir, while Israel is occupying a vast area of Palestine, Radio Pakistan reports.

The foreign minister said Pakistan never accepted Israel. India has been involved in the killing of a large number of Muslims in Gujrat, he mentioned.

Turkey's Erdogan slams US, Israel for intervention in internal affairs of Pakistan

Commenting on Pakistan's sacrifices on war against terror, he said, "Pakistan's valiant armed forces have been fighting war on terrorism with full force and they have achieved many successes in it."

Israeli PM on extremism 

Israeli Prime Minister Benjamin Netanyahu said, on Tuesday, he was discussing with India ways to strengthen security cooperation against the menace of from extremism that both democracies faced.

Netanyahu spoke while on a six-day tour of India, the first by an Israeli premier for 15 years, and is being feted by Indian counterpart Narendra Modi, whose Hindu nationalist party has long admired Israel for its tough posture against terrorism.

India, wary of upsetting Arab nations on which it was dependent for oil, and heeding the sentiments of its own large Muslim minority, kept a distance from Israel for decades. But under Modi, the two sides have embraced a closer relationship based on security and economics.

The right-wing Netanyahu told a security conference that India and Israel were two democracies with a natural affinity, but their open and liberal societies faced risks.

"Our way of life is being challenged, most notably, the quest for modernity, the quest for innovation (are) being challenged by terrorist offshoots from a variety of corners," he said.

Both Israel and India have long sought to counter militants - in Israel's case, mainly from Gaza and Egypt's Sinai region and, in India's case, mainly from Pakistan. Away from the public eye, India and Israel have been cooperating against the threat through, in part, intelligence sharing, officials say.

"We've discussed in this visit how we can strengthen our two nations in the civilian areas, in security areas, in every area," Netanyahu told the conference.

His trip to India comes just six months after Modi made the first trip by an Indian prime minister to Israel, during which he did not go to Ramallah, seat of the self-ruling Palestinian Authority and a customary stop for leaders visiting the region.

Netanyahu in India for first visit by Israeli PM in 15 years

Netanyahu toured the Taj Mahal on Tuesday and will also visit Modi's home state of Gujarat and India's financial capital Mumbai.

He will join an 11-year-old Israeli boy, Moshe Holtzberg, whose parents were murdered by Pakistan-based militants in Mumbai in 2008, for a memorial event at the Indian financial hub's Jewish center where the attack took place.

The boy, who lives with his grandparents in Israel, arrived on Tuesday as a guest of Modi.
COMMENTS (1)
Comments are moderated and generally will be posted if they are on-topic and not abusive.
For more information, please see our Comments FAQ