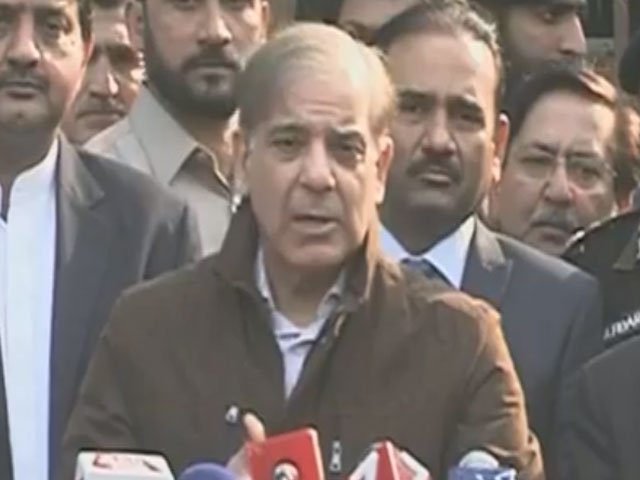 ---
LAHORE: Punjab Chief Minister Shehbaz Sharif on Wednesday said he could not outline a timeframe, but will leave no stone will be left unturned to apprehend the culprit in the Kasur rape and murder case.

He also urged residents of Kasur to come forth with any information regarding the suspect in the eight-year-old's rape and murder case, 'guaranteeing' complete confidentiality.

Addressing media in Kasur, Shehbaz said the inquiry was purely based on 'scientific' investigation including DNA testing. He added that all law enforcement agencies and NADRA were cooperating in the investigation.

The CM said the accused will be given a sentence so severe that anyone who thinks of committing such a heinous crime will think a hundred times.

Responding to a question on the rally being staged in Lahore by Pakistan Awami Tehreek (PAT) supported by Pakistan Tehreek-e-Insaf (PTI) and Pakistan People's Party (PPP), Shehbaz urged opponents to not politicise the issue.

"The nation and the Almighty will not forgive us if we continue play politics on sensitive issue like this."

Separately, a man resembling the suspect's sketch provided by the authorities in the eight-year-old rape and murder case was arrested from Bhatta Chowk area in Lahore last late night.

The suspect revealed his name to be 'Umar' and confessed to the rape and murder of the minor girl during initial investigations, sources said. He has been handed over to the Joint Investigation Team for further investigations including DNA testing.


NADRA has no record of suspects arrested in Zainab rape-murder case


According to earlier reports, the prime suspect is involved in murdering at least eight underage girls. During a meeting on Sunday, the Inspector-General of Police Arif Nawaz had personally visited Kasur to hold a meeting with the JIT members, who briefed him on the case. It had also issued a fresh sketch of the suspect after obtaining a new picture from CCTV camera, however JIT could not obtain any information about the suspect from NADRA database. They had also decided to conduct DNA tests of all people matching the suspect's age and living in a two-kilometer radius of the victim's house.

Three suspects arrested in Kasur rape case

It is pertinent to note that the origin of a CCTV footage circulating on the media and social media of a man resembling the suspect remains unknown. Police have denied releasing any such CCTV video. The 'suspect' has reportedly been cleared by the investigation team after appearing before the JIT.

Another picture of a person standing behind the father of the victim went viral, resulting in him having to issue a video statement to clarify his position. Earlier, a picture of a person standing behind father of victim Zainab at Islamabad airport had also went viral. The person has to issue a video statement online to clarify his position.
COMMENTS (1)
Comments are moderated and generally will be posted if they are on-topic and not abusive.
For more information, please see our Comments FAQ