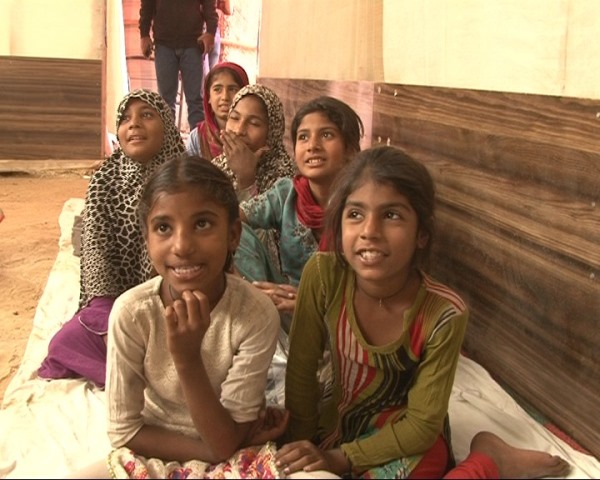 ---
KARACHI: Committed to spreading their knowledge, second-year students from Karachi University's law department have set up a makeshift school in a slum opposite the varsity's Silver Jubilee Gate. The school is named after Junaid Jamshed, the late singer turned businessman. The school has a cottage-like feel, even in the absence of adequate infrastructure. The walls bear framed pictures of Jamshed alongside Quaid-i-Azam.

The students comprise underprivileged children ranging from scavengers and roadside beggars to small wage earners, car washers and peddlers selling tissue packets or stationary.

School administrator Danyal told Express News that the school established under the umbrella of 'Be the Change: Save a Life Welfare Association', which was originally founded by three students but now has five members on board. The platform is both supported and run by these students. The foundation stone of the Street Children School Shaheed Junaid Jamshed Campus was laid on August 14, 2017 and educational activities began this Wednesday.

I want every Pakistani child in school: Bilawal

"All the school staff and teachers are volunteers," Danyal explained. "In the beginning, 70 children were enrolled but some left due to personal reasons. However, some children of the first batch have also brought their siblings to the school," he said.




"In addition to education, we also focus on the upbringing of the children so that they are able to develop into productive members of society. We educate them not to be burdened by feelings of despondence and deprivation."

Danyal also said that their NGO has recently been registered by the government of Sindh. "We study during the day and work in the evening," he said, adding that each member of the group donates a certain portion of their income towards the school's expenses. They are also supported by contributions in the form of books, copies, pencils and other stationary from friends and family.

Neha Nadeem, the admin officer and a teacher at the school, said the reception they receive from the children is wonderful. "On her first day, a little girl asked us to teach her to the point where she is able to gain admission in the same university as her teachers," she related. "In order to further the students' interest and motivation, we also hold activities such as painting and poetry," she explained.

Newly-constructed school building in Rehri Goth inaugurated

The founders are interested in opening similar schools in other slum areas of Karachi. "We will name them after honorable personalities like Abdul Sattar Edhi and Amjad Sabri," they said.

The school is small – it has a basic sofa set and a pair of bulbs providing light. But for the underprivileged children doomed to beg in front of KU's Silver Jubilee Gate, the place is a Godsend, even without desks and chairs. "We are happy that our hands will hold pens instead of begging bowls," said some of the schoolchildren.




More than providing basic education, the street school has given children hope and dreams. Many now envision themselves as future teachers, doctors and engineers.

One of these hopeful students, Hina, said that she wants to open her own school once she finishes her studies. "I want to educate girls who are deprived of education," she explained.

Taimoor Junaid, Jamshed's eldest son, lauded the efforts of the KU students during the inauguration ceremony. "The establishment of the Street Children School is really commendable; educating underprivileged children is extremely necessary," he said. "My father, after whom the school has been named, often gave sermons at the University of Karachi. We must support children who are deprived [of education]," said Taimoor.




The mother of three students of the school - Ali, Asad and Yasmeen - told Express News that they have been residing in the slum for years. "I wanted education for my children even though we have been living hand to mouth," she said. "I want my children to be respected in society."

Expressing her satisfaction with the amount of attention being given to her children, she said that the slum residents never used to take education of their children seriously until the establishment of this school. "Many children escape studies by seeing that their parents don't care about it," she lamented. "But I accompany my children to school every day. I regret that I could not get educated myself but this school is a ray of hope for my children," she said.