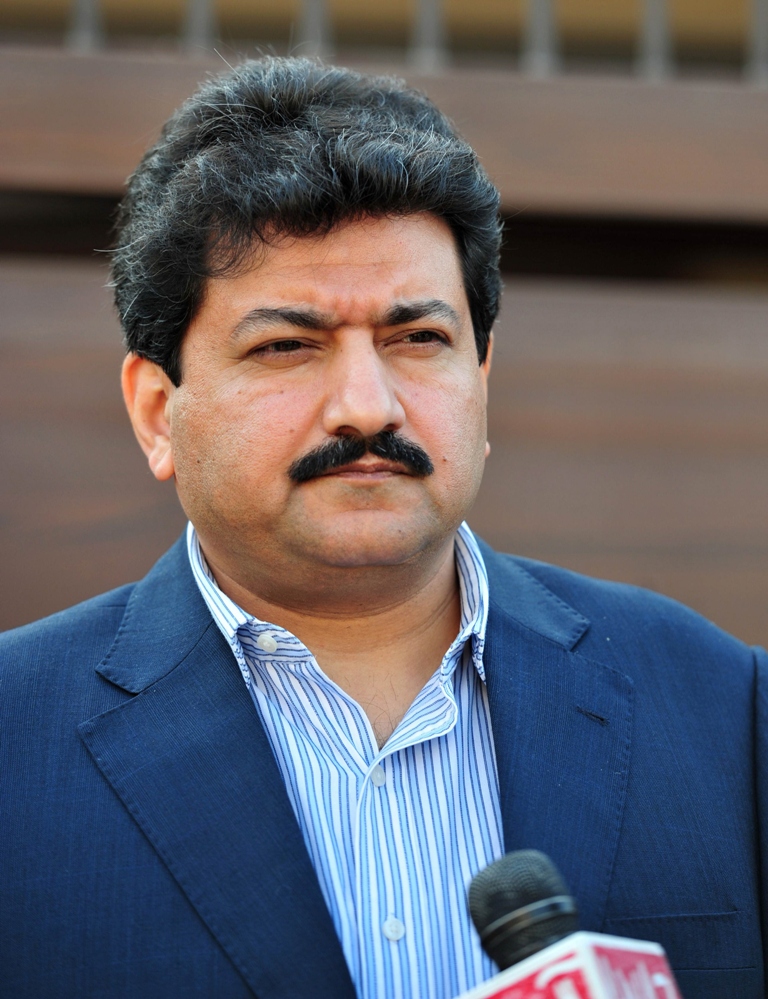 ---
Senior television anchor and journalist Hamid Mir has been booked in a seven-year-old case involving the kidnapping and subsequent killing of a retired official of the Inter-Services Intelligence (ISI).

The retired ISI official, Khalid Khawaja, was kidnapped while filming a documentary about Colonel Imam in the militants-infested South Waziristan Agency and was shot dead after a month-long captivity in April 2010.

The whodunit, which had become more of a why-done-it, was resolved when a little-known group calling themselves the 'Asian Tigers' claimed killing Khawaja because he was "spying for the American CIA".

Imam, British journalist Asad Qureshi and Qureshi's driver Rustam Khan were also kidnapped with Khawaja. Qureshi and Khan were released in September 2010, while Col Imam was killed execution-style in January 2011.

Attack on Hamid Mir: Charges against ISI were based on assumptions, says inquiry

The case against Hamid Mir has been registered at the Ramna police station of Islamabad on the orders of Islamabad High Court Judge Mohsin Akhtar Kayani.

The judge ordered registration of the case on the petition of Khawaja's widow, Shamaima Malik, who has alleged that Hamid Mir and Usman Punjabi, a commander of the outlawed Tehreek-e-Taliban Pakistan (TTP), had kidnapped her husband and took him to South Waziristan where he was killed.

The judge had passed the order a few days ago, but the police say it took them time to register the case because they didn't have an attested copy of the court order.

The case has been registered under Section 365 of the Pakistan Penal Code which carries a seven-year jail-term.

Murder clauses have yet not been included in the case, though it mentions the murder of Khawaja. The issue would be dealt with once the kidnapping had been established, the police said.

Khawaja had played an important role in the commando operation against the radicals holed up in Islamabad's Lal Masjid during the regime of then military ruler Pervez Musharraf.

Hamid Mir escapes attempt on his life

Khawaja, a former squadron leader of Pakistan Air Force, once claimed that he had played a role in a deal in which al Qaeda kingpin Osama bin Laden gave money to Nawaz Sharif to destabilise the Benazir Benazir government in the early 1990s -- a charge Sharif always denies.

The Ramna police station in-charge, Inspector Irshad Abro, said that first of all the police station did not exist at the time the crime had been while the area where Khawaja's family lived fell within the jurisdiction of Shalimar police.

The police have yet not decided to arrest Hamid Mir.

Soon after registration of the case, Hamid Mir tweeted, "It is a seven year old case. The court acquitted me in 2010 in the same case and now the same case has been again registered to suppress my voice but fake cases cannot silence me."


It's a 7 years old case I was cleared by courts in 2010 same case surfaced again in 2017 to silence my voice but fake cases can't silence me https://t.co/VpiN9DshVT

— Hamid Mir (@HamidMirPAK) November 4, 2017


Speaking to BBC Urdu, Hamid Mir said that Khawaja's son had moved an application in a local court in June which was rejected. After that he also filed an application in Lahore High Court's Rawalpindi bench, which in July 2010 rejected the application of the son of the deceased and gave decision in his (Hamid's) favour.

He said when the decision was given, the Islamabad High Court did not exist.

The senior journalist also said he knows who is behind this action. He said that he is heading the team investigating the attack on local journalist Mutiullah Jan and is included in a team of journalists investigating the case of an alleged list issued by the Intelligence Bureau (IB) registered against another journalist Arshad Sharif.

Case against Hamid Mir is registered at a time when not only attacks on journalists are being reported but they are also being threatened of dire consequences.

Various circles expressed surprise on the kidnapping of Khawja because apparently he was considered to be supporter of Taliban. But after a few days of his kidnapping, he confessed in a video to have worked for intelligence agencies in the Lal Masjid incident. However, apparently the statement was given under pressure.