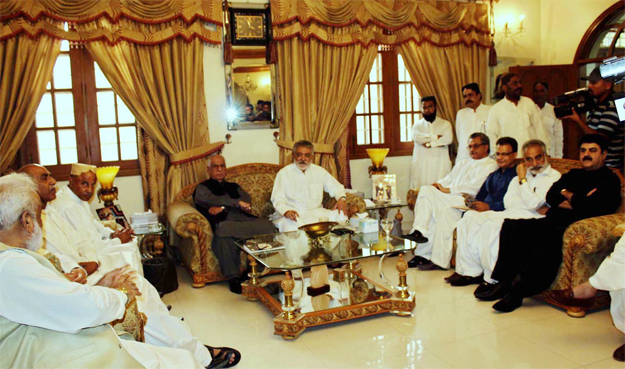 ---
KARACHI: Opponents of the Pakistan Peoples Party (PPP) in rural Sindh have decided to formally register an alliance to contest the ruling party in the 2018 elections.

"The Grand Democratic Alliance (GDA) will be registered with the Election Commission of Pakistan under the leadership of Pir Pagara," said Qaumi Awami Tehreek President Ayaz Latif Palijo after a meeting of various PPP opposing political leaders held at Kingri House, the residence of Pir Pagara, on Sunday. Palijo added that a coordination committee would also be formed to include all other parties in the grand alliance against the current Sindh government in the upcoming general elections.

The leaders who attended the meeting included Mumtaz Bhutto,  Ghous Ali Shah, Arbab Ghulam Rahim, Zulfiqar Mirza, Palijo, Sardar Rahim, Ghous Bux Mahar, Safdar Abbasi, Senator Muzaffar Hussain Shah, Abdul Karim Shaikh, Haji Shafi Jamot and Irfanullah Marwat.

'Scripted story': Gabol's son dismisses Uzair's revelations

"We have been seriously analysing the current political dynamics," said Pir Pagara, adding that all the leaders of the GDA will participate in the grand meeting to be held in Sukkur on November 26.

Speaking at the meeting, Palijo said that the leaders wanted accountability without discrimination throughout the country. He also demanded accountability in the bureaucracy, which, according to him, was involved in the every wrongdoing of the PPP.

Palijo later said that Sardar Abdul Raheem has been appointed information secretary of the alliance, whereas he would serve as its general secretary.

Nationalist leaders condemn enforced disappearances

The GDA will provide justice to the deprived people of Sindh, said former home minister Zulfiqar Mirza, who was once a close aid to PPP Co-Chairperson Asif Ali Zardari. Mirza accused the ruling party of buying votes to secure its victory in the polls.

Commenting on his wife and son who won elections on PPP tickets and have still not resigned as an MNA and MPA respectively, Mirza said that they will make the decision to leave the PPP at the right time.

Zardari has no relationship with the actual PPP and is a self-claimed co-chairperson of the party, said former senator Safdar Abbasi.

Meanwhile, PPP Sindh General Secretary Waqar Mehdi said the GDA was just a group of political orphans. According to him, the people of Sindh had been rejecting the politicians who constituted the GDA. "The people of Sindh would never be ensnared in their trap," he added.