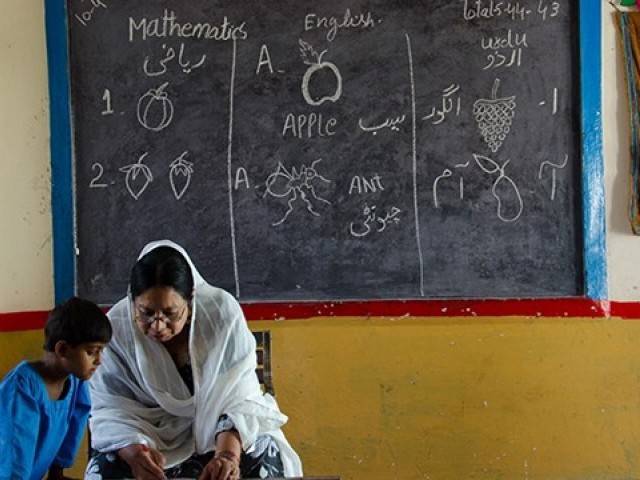 ---
PESHAWAR: Teachers from schools and seminaries from across Khyber-Pakhtunkhwa on Sunday were trained on adopting 'children friendly education' (CFE) practices.

In this regard, a daylong workshop aimed at improving the learning and teaching environment of classrooms was organised by the Peace, Education and Development (PEAD) Foundation in collaboration with Unicef and Khyber-Pakhtunkhwa Elementary and Secondary Education (ESE) department.

Govt to set up college teachers' training schools

Two separate workshops for male and female teachers were organised.

PEAD Program Manager Tariq Hayat said that issues pertaining to children should be given preference while planning in educational institutes.

"In order to help children reach their full potential and refrain from developing discriminatory attitudes, we need to provide them with quality education and work towards building the capacity of teachers on modern lines," he added.

PITE senior instructor Dr Jehangir Adil said that the participating teachers had already been trained under the CFE project and that Sunday's day-long workshop was aimed at devising a school development plan based on CFE approaches.

Teachers from madrassas and government-run schools participated in the programme wholeheartedly and termed it a unique experience, he added.

Highlighting the importance of CFE, he said that it ensures implementation of principles enshrined in the Child Rights Convention (CRC), including participation and protection, inclusion and formulation of child-centred policies. Moreover, it encompasses all aspects of the education system, both conventional and contemporary, he added.

Over 40% teachers received no training in Pakistan

E&SE Deputy Director Azam Khan said there was a need to prioritise education and appreciated the initiative taken by PEAD, Unicef and other organisations. The initiative, he said, has helped the provincial government devise an all-encompassing education system, focused on the mental and physical well-being of students.

He hoped that teachers, who attended the workshop, would implement CFE teaching methodologies in their classrooms and bring about reforms in the existing schooling system.

Published in The Express Tribune, August 28th, 2017.