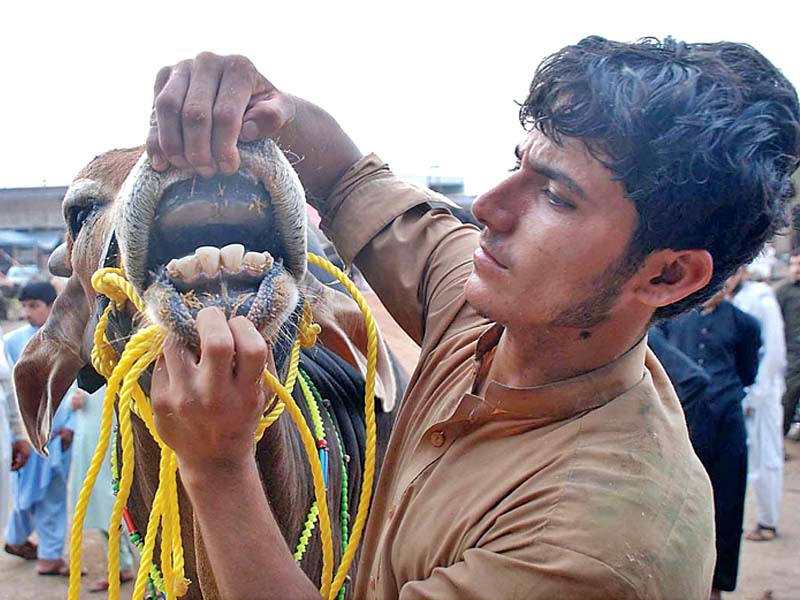 ---
PESHAWAR: With just a little over 10 days to go for the traditional festival of Eidul Azha, sale of sacrificial animals has picked up momentum in the city's cattle markets where cows, buffalos, goats, sheep and camels are being herded in from Punjab, Sindh and different far flung districts of K-P in a bid to get maximum profit in the lucrative market of Peshawar.

Eidul Azha likely on Sept 1, says Met

Livestock traders from Punjab and Sindh provinces besides local traders  have brought their animals in large numbers  to Peshawar's to reap a windfall.

A noteworthy feature of Peshawar being a focal trade point on the occasion is that  it not only attracts buyers from K-P and Fata only but buyers from neighbouring Afghanistan throng to the market to purchase animals for the festival.




"I have so far brought six truckloads of cattle from Sahiwal and my brother will send another five more trucks shortly to Peshawar to get maximum profits " Allah Bakhash, an inter-provincial exporter of Sahiwal told  the media.

Another dealer at Lalla Kala market near Peshawar.said "I had refused an offer of Rs 120,000 for my ox 'Janbaz' last Sunday as I am demanding Rs.150,000 for it," he added.

People are seen to be visiting different localities for buying sacrificial animals in Lala Kala market, Pajagai road and Ring Road in Peshawar and the traders have also started roaming in streets with their animals to attract buyers.

Government announces three-day holiday for Eidul Azha

However, it has been observed that there are more visitors assessing prices at the moment than actual buyers.

Traders are optimistic  that prices will go up as Eid draws nearer. earning them huge profits.

"Since last Sunday, I have only sold 20 goats out of 50 available with me in Pachagai cattle market as buyers mostly come to the markets to get an idea about the prices and then return emptyhanded " said Mosa Khan, a cattle trader in Pachagai road.




He said high cost of fodder, transportation of animals and high fee of cattle market owners were contributing to an increase in cattle prices on occasion of Eidul Azha. During a visit to the Lala Kala cattle market, it was observed most buyers were interested in purchase of buffaloes, cows, oxens instead of goats, sheep and camels in order to be a shareholder of a in big animals by performing collective 'Qurbani' (sacrifice) keeping in view the high prices of small animals.

"The prices of sacrificial animals are sky high this year in Peshawar as compared to last year and are beyond the purchase power of middle, salaried and low income groups. We will buy a buffalo during the last days of Eid with the hope that prices may go down," Khurshid Khan, a disgruntled buyer said.

He demanded the district administrations to ensure a close check on the prices of sacrificial animals and award strict punishment to excessive profiteers as regulating and maintaining check on prices was the prime responsibility of Deputy Commissioners.

The Livestock and Dairy Development K-P official told APP that we have no choice but to import cattle from the Punjab to ensure availability of sacrificial animals at reasonable rates for people, adding that around 70 to 80 percent cattle are being brought form Punjab  to KP to bring the prices down.

He said several checkpoints were established at various places on highways and roads connecting K-P with Fata to control the menace of cattle smuggling and decided to take strict action against cattle smugglers in the province.

Published in The Express Tribune, August 22nd, 2017.