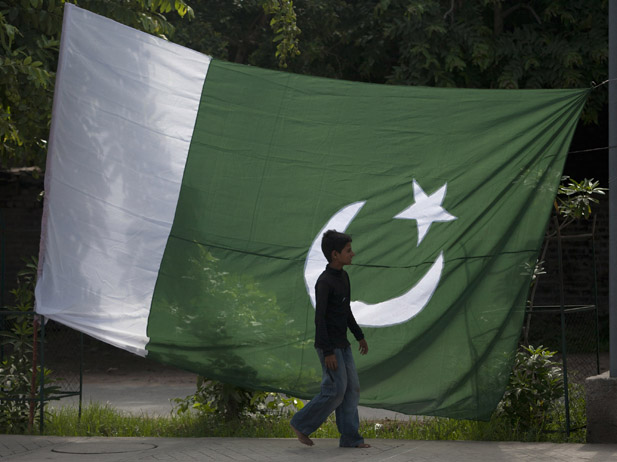 ---
LAHORE: Traders took the chance to cash in on Pakiistan's 70th Independence Day celebrations by establishing kiosks and stalls to sell flags, buntings, badges, shirts or other merchandise.

A large number of buyers purchased merchandise from the stalls. Small kiosks also sprung up throughout the city to sell their stock. Children were the biggest customers of these stalls and made parents spend their hard earned money on whichever goods caught their attention.

Traders around Data Darbar scared of retuning home empty-handed

Mehboob Ali, who owns a spare parts shop, had set up a small stall in Faisal Town. Ali confirmed his most enthusiastic customers were children, who were also the most frequent visitors. "People are buying all kinds of things to mark Independence Day. Many come with their excited children. The hottest selling item at my stall is the Pakistani flag; I also have badges, buntings and t-shirts printed with the national flag."

Raza Hussain, who came with his two children, bought several of the items from Ali's stall. He said that his children wanted to decorate the house with flags and buntings and he had come to buy different decorations with his children. He also bought a white shirt with a green crescent and star for his son as well as a green shirt independence day written on it.

Encroachment drive: CDA to take traders on board

He said that his daughter was disappointed to see that there were no clothing items for girls at the stall.

Similar scenes were seen in other parts of the city with makeshift stalls and kiosks selling goods to mark Pakistan's freedom. Most of the markets, on the other hand, were closed down as the traders had taken the day off.

Muhammad Javaid, who owns a small garments shop in Iqbal Town, said he had set up a stall to sell the Independence Day merchandise. He added that the stall was set up on Sunday evening and had sold almost all his stock. "Independence Day is like Eid when people make preparations with flags, buntings and decorations. It also provides a good business opportunity for small businessmen who set up stalls and sell merchandise."

Published in The Express Tribune, August 15th, 2017.
COMMENTS
Comments are moderated and generally will be posted if they are on-topic and not abusive.
For more information, please see our Comments FAQ