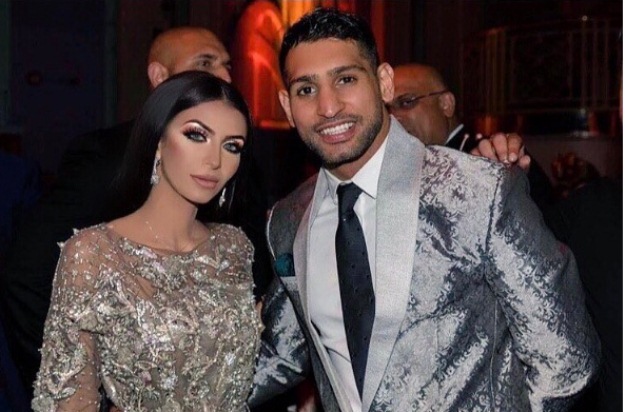 ---
British-Pakistani boxer Amir Khan and wife Faryal Makhdoom shocked the world when the sportsman announced that he has decided to leave his wife of four years, in a Twitter rant.

Now a Khan family source told the Daily Mail that the "split" was the "best outcome".

Another added, "Faryal is evil. She took control of Amir and drove him to the extent where he has suffered depression."

Amir Khan, Faryal Makhdoom part ways


The source went on to add, "Amir was almost held hostage by in-laws and was given 'either with us or against us' situation to decide between his family and in laws. That's tragic. It was clear from very early on that Faryal is interested in Amir's money and fame and we told Amir so that she's a bad choice."








"We all make mistakes. It's good Amir has reached to the conclusive fact that she's a cheater, selfish and greedy. This was bound to happen," the source added.


Now that their four-year marriage is over, and clearly, it hasn't been an easy ride, what has he given up for her?

His family:

The couple's very public spats with the sportsman family, made headlines for quite sometime. Amir has been caught up in many arguments with his family over his wife.

It all started when Faryal allegedly accused her in-laws of abuse over her western choice of dressing. His plan to keep his catwalk model wife out of the spotlight backfired when they became embroiled in a very public feud with his family.




She claimed that they were attempting to bully her and it led to Khan's falling out - that too in a public fashion with his relatives.

In December, Faryal claimed she had been subjected to a tirade of abuse and accused her in-laws of trying to destroy her marriage.

Boxer Amir Khan's wife makes shocking claims against in-laws

His manager: 

Earlier this year, Amir sacked his own father, Shah from his management team.

He also got rid of his uncle Taz, who worked as a consultant, and lifelong friend Saj Mohammed, who worked as his assistant.

Previously, Amir told Mirror Online, "My dad is not going to be negotiating fights. I love my family to bits, but my business is boxing and I'll have a different team to do that."

"My dad, my mum, I respect them. I want a family relationship with them rather than a business relationship. They'll be at my next fight, hopefully. I will invite them. When you mix the two it can get a bit difficult. That's why I want to keep them separate," he further said.

His brother's wedding:

Amir reportedly missed his brother Haroon's wedding party in January - and spent the day training in San Francisco instead.

Haroon celebrated his wedding to wife Arifa at Bolton FC's stadium in front of 1000 guests - but Amir and his wife Faryal were apparently not among that number.






Faryal later claimed she didn't get an invite to her brother-in-law's wedding, perhaps explaining why he chose to go to the training camp.


"Everyone's been asking why I didn't attend Amir's brother's wedding. I kept quiet. But the truth is AMIR'S wife and child were not invited. Or even included in the celebrations. They could have at least tried." said Faryal, in the snap.




Faryal Makhdoom reveals why she and Amir didn't attend Haroon's wedding





Sharing a video in Snapchat, Amir told his followers about the split, "Hey guys, hope you're well. Yeah so everything you saw on social media today, it is real. Obviously me and Faryal have both decided to move on - well, I've decided to walk away... nothing's been hacked and obviously it's just a tough time we both have to go through.

"We have to both move forward because it's not healthy for any of us and I'm just not happy with the way I get treated by her and everything else. So look, I wish her every best for the future and I'm in Dubai at the moment and I'm doing some training and stuff but I don't want you guys to worry.
"I am staying strong and I just want to say a big thank you for all your support but yeah. What's done is done. Everything I posted on social media today was true."

Amir Khan, Faryal Makhdoom end bitter feud with family after six months




Soon afterwards, Faryal lashed out at her husband.


She wrote: "Actually trying to ruin someone's life like this is a low blow. Especially someone who's been there for you through every cheating scandal and stuck by your side when your own parents screwed you over.

"It's ok. I'll stay quiet. I won't let YOUR dirty laundry out in public. Because I'm better than that."

Have something to add in the story? Share it in the comments below.