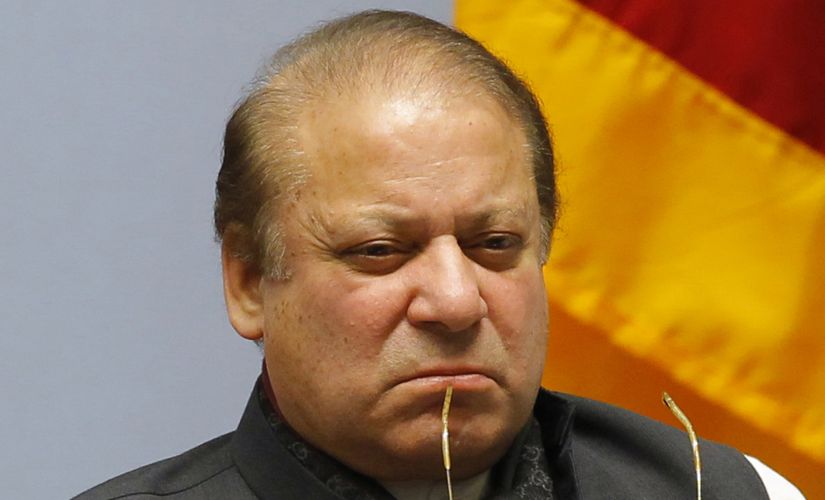 ---
Deposed prime minister Nawaz Sharif has hit out at a former military ruler who had toppled his government in 1999, claiming that he had turned away Gen (retd) Pervez Musharraf when he tried to reconcile with him 10 years ago.

Speaking to a select group of senior journalists at an informal meeting at the Punjab House on Saturday, Sharif said he would still prefer to hold his peace for the time being over crucial issues, especially those surrounding his ouster from power.

"Not that I am short of words or anything — it's just  that I prefer to stay tight-lipped over some issues which may not be appropriate to comment on, right now," he said, adding that he would speak his mind at some 'appropriate' time.

"Now that I am not the prime minister anymore and I am somewhat relieved of official obligations, I will be interacting more often with you people — and discuss different issues. I have a lot to say."

The inclusion of Khawaja Asif and Mushahidullah Khan in the new cabinet has raised eyebrows as the two are known for their critical views about the security establishment. Political circles believe this is an indication that Sharif has charted a confrontational course with the establishment and this was reflected in his meeting with journalists on Saturday.

"On the one hand, an elected prime minister has been sent packing for crimes he never committed. On the other hand, there is a dictator who killed a popular leader like Nawab Akbar Bugti. Will someone hold him accountable?" Sharif said while referring to Musharraf.

PM Nawaz resigns after SC order to disqualify him

"This man [Musharraf] says dictatorship is better than democracy. I say to him, come here and face the cases for the havoc you wreaked on this country. Why are you on the run if you are that brave?"

On his disqualification, Sharif said "This is the first case in which accountability involved fathers and forefathers."

"I fail to understand how someone can be disqualified for not drawing a salary from his son's company," he said in an obvious reference to his disqualification for concealing employment in Capital FZE in the Panamagate case. "If I am to be disqualified, there has to be a case of corruption against me. There isn't a single instance to prove me corrupt in all my three tenures," Sharif claimed

Sharif, who travelled to Islamabad from Murree on Saturday after spending a few days in the popular hill station with his family, received a thumping welcome at Bhara Kahu where he stopped to wave at his supporters. Though he did not make any speech there, the crowds created a rally-like scene, leading to traffic logjams on Murree Road. Police struggled to maintain security cordon around Sharif's car.

The deposed premier initially planned to go to Lahore via motorway but had a change of heart and has now decided to leave for Punjab's capital on Wednesday.

Sources say one of the major reasons for Sharif's stay in Islamabad before leaving for Lahore is that he wants to demonstrate his political strength. "A new PM is in place, still he [Sharif] is in the capital where senior leaders are calling on him and taking guidelines on important issues. This speaks volumes about where the real power lies," a PML-N leader, who called on Sharif on Saturday, said requesting anonymity.

A full-time foreign minister finally

He said Sharif is determined to win back the support of aggrieved party leaders. This is why he put weight behind Abbasi for premiership instead of Asif, who was also a hopeful for the coveted slot. In particular, the move appears to be aimed at pacifying leaders like Nisar who has serious differences with Asif.

Nisar has also been assigned to oversee the arrangements of Sharif's travel from Islamabad to Lahore.