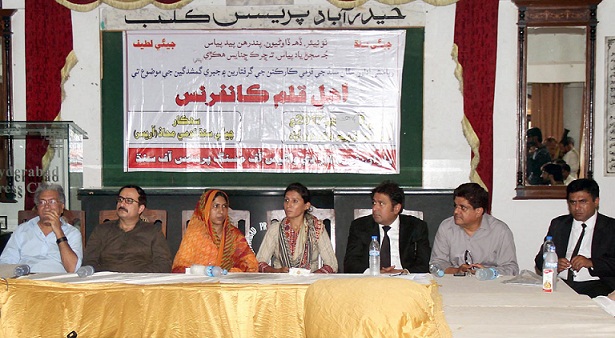 ---
HYDERABAD: The human rights worker who led a long march to Karachi for the recovery of missing persons has himself gone missing. Punhal Sario, who heads the Sindhi Hari Porhiyat Council and led the recently-formed Voice for Missing Persons of Sindh, was whisked away late Thursday night from outside the Sindhi Language Authority.

He was returning from Cafe Khanabadosh, which is located around 100 metres from the authority premises, after celebrating a friend's birthday. "Ten to 15 men wearing uniforms of police commandos, including a six-foot tall man whose face was veiled, stopped our car outside the Sindh Museum. They asked Sario to step out, grabbed him and pushed him inside a Toyota Vigo bearing registration number SP-2939," Dr Haresh Kumar, a psychiatrist, who was with Sario told The Express Tribune.

Missing persons details to be given in three days

Dr Haresh was driving the car in which Sario was sitting. Javed Soz, head of non-profit Sindh Community Foundation, said that they were together at the cafe but left the place in two separate cars to meet again at the residence of journalist Mahesh Kumar.

According to him, Dr Haresh arrived alone at the journalist's home and informed them that Sario had been taken away. Advocate Ali Palh, who represents the Sindh Human Rights Defenders, said police officials were immediately approached to help recover Sario.

But, he lamented, the Hyderabad DIG Khadim Hussain Rind and SSP Amjad Baloch gave a listless response. "We called [Friday morning] on Sario's mobile number. The call connected, but no one attended the phone. We told the police about this, but they didn't even bother to check the call data records to trace Sario," Palh said.

Missing persons: Families demand govt to ensure safe return of loved ones

On Friday, Sario's wife, Sughra, registered an initial complaint at the GOR police station after police allegedly refused to register an FIR.
Mahesh informed Sughra that the vehicle in which Sario was taken away had the registration number SP-2939. The complaint also stated that her husband's mobile number was receiving calls but the phone was not being attended.

Missing persons conference

Sario was abducted on the eve of the day when he was to host a conference for missing persons in Hyderabad. Some close associates of Sario believed that the incident might be linked with the event.

Missing persons matter referred to Senate HR panel

However, despite his absence, the event was held in which rights activists fully vented their outrage. "Sario has been kidnapped to sabotage this conference," said Jami Chandio, a writer and political analyst who also heads Centre for Peace and Civil Society.

He described the kidnapping, torture or killing of an individual as a crime. "What's happening in Balochistan and Sindh is a crime," he said, referring to various cases of enforced disappearances. He asserted that it is the obligation of the Parliament, Sindh Assembly and the constitutional institutions to protect the right of freedom of speech of the citizens.

Sindh University Teachers Association General-Secretary Prof Arfana Mallah and a known human rights activist said the state cannot suppress the voice of the people by such acts. She gave examples of the Kashmiri people in Indian-occupied Kashmir and the Sinhalese of Sri Lanka whose struggle could not be repressed despite oppressive measures.

Another activist Samar Abbas goes missing from Islamabad

"We have decried a lot about what has been happening. But now we need to form a strategy to deal with this issue," suggested Zulfiqar Halepoto, a writer and political analyst who belongs to Pakistan Tehreek-e-Insaf. He proposed that an all parties' conference be called and a unanimous stance over the issue should be evolved.

Tanveer Arijo, the daughter of a missing person, shared her trauma. She said that her family had filed a petition in the Supreme Court for the recovery of her father, Khadim Arijo, sent letters to international human rights organisations and approached political leaders. "[Home minister] Sohail Anwar Siyal said he was helpless in this matter," she said, narrating her conversation with the minister.

Nisar says no plan to book activists for blasphemy

She said that on July 29, the Hussainabad police SHO took her to the Edhi morgue. "I was asked to identify whether a body at the morgue belonged to my father. Fortunately it wasn't him. Such is the trauma that we have been going through."