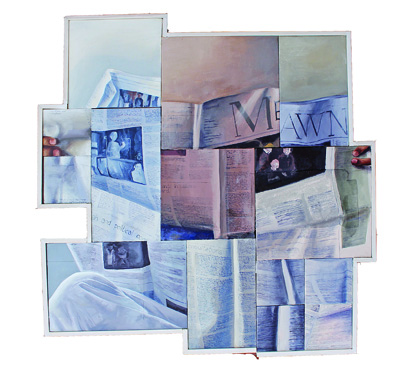 ---
KARACHI: Art in a surreal world, is more of a dream- a dream for some and reality for others.

Four young graduates of the Indus Valley School of Art and Architecture (IVS), Rabia Khan, Jovita Alvares, Ayesha Naveed and Nimrah Nadeem, presented their works, 'Quartet', at Canvas Gallery Thursday evening. The collection comprised as many as 20 art pieces.

'Karachi Art Summit takes inspiration from Dhaka Art Summit'
Toying with the medium of graphite on paper, Khan presented her thoughts on clothes as a metaphor for existence and living in this world. "We experience multiple complex emotions in this life, amid the torrid world of chaos," Khan said.




You will see that my clothes are translating my emotions, she said.
Using the medium of acrylic and sand on layered canvas, Alvares focused on the public space of Seaview in her art work. In the continuation of her work, she explored the imagery of locals visiting the public space.

"I tried to recollect my own childhood-related memories of the space," Alvares said.

There are so many memories that you cannot control, she said, adding that many moments are added to her memory which she tries to preserve. An image of horse riding and one of herself where her legs are brought into focus were included in her art pieces on display.




Jovita Alvares's work. Photo: Courtesy Full Circle Gallery

Naveed's work was the forward projection of her thesis in which she used acrylic and paper cut on canvas. She brought forward her thoughts on a sofa that her father sits on. From that sofa, began her journey of documenting every move of her father's. "It's a blue sofa set with objects around it. He seldom leaves the sofa," Naveed said, sharing that as young girl, she would follow her father drawing inspiration from him.

Aiming high: Karachi Biennale to put city on global art map

She has painted the many objects on and around her father's sofa. "I painted these things very discreetly, without letting him [my father] know I am documenting his life," Naveed said.




Excerpt by Nimrah Nadeem. Photo: Courtesy Full Circle Gallery

Lastly, Nadeem used mixed media on paper from imprints of a memory etched in a dream-like situation. "It's all about transient memory for me which is a ghost or shadow of a dream," Nadeem said, adding that the visual layering in her work was intentional.

The show continues at Full Circle Gallery till April 15.
COMMENTS
Comments are moderated and generally will be posted if they are on-topic and not abusive.
For more information, please see our Comments FAQ