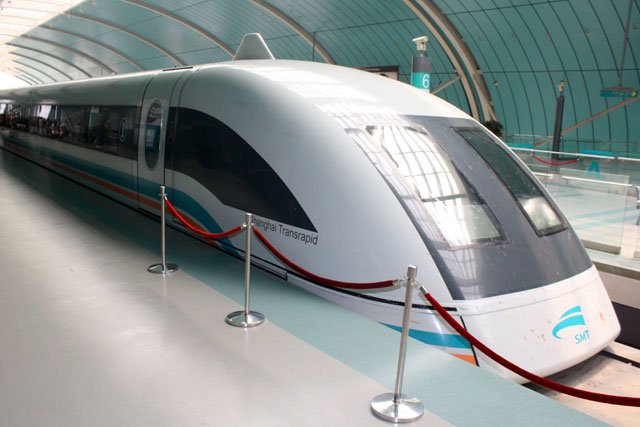 ---
Train travel can be far more gratifying than air travel. Besides being more economical, train travel has the added benefit of picturesque views.  What's more, with the advent of high-speed rail, trains are only becoming faster; travelling in Europe by train is already speedier than by plane.

How fast? Here is a list of the world's fastest high-speed trains, graded by operating speed:

1. Shanghai Maglev: 431 km/h (267 mph)

Running from Shanghai's Pudong International Airport to the Longyang Road Station in suburban Shanghai, the maglev is the world's fastest train. The train takes seven minutes to complete the 19-mile journey.

2. Harmony CRH380A: 379km/h (236 mph)

Taking the title of world's fastest non-maglev train and the second fastest train in the world is China Railways' Harmony. The passenger train has been running from  Shanghai to Nanjing since 2010.

7 things you should never do on an airplane

3. Trenitalia Frecciarossa 1000: 354 km/h (220 mph)

Transporting passengers from Milan to Florence or Rome in less than three hours, Italy's "red arrow" is Europe's fastest train. Launched during Expo 2015, the train is notable not only for its speed but for as for its almost 100 per cent renewable and sustainable components.




4. Renfe AVE: 349 km/h (217 mph)

Velaro E by Siemens, is Spain's fastest train. The train operates long distances to major Spanish cities and outside. You can travel from Barcelona to Paris in six hours.

5. DeutscheBahn ICE: 330 km/h (205 mph)

Another Siemens design, Germany's fastest train is the Velaro D. The train is lauded for its striking futuristic design along with the speed. Inter-City Express was built to fit through the Channel Tunnel. DeutscheBahn aims to operate these trains from Frankfurt to London in the future.




6. Eurostar e320 and TGV: 320 km/h (200 mph)

TGV and Eurostar e320 trains are tied on number 6. Titled for its top speed of 320 kmph (200 mph), the e320 series is a complete redesign of a Eurostar train in 22 years. The new train trims a further 15 minutes from the already quick trips between Brussels, Paris, and London.

These are the 10 cheapest cities on Earth

7. Hayabusa Shinkansen E5: 321 km/h (200 mph)

Running from Tokyo to Shin-Aomori, the Hayabusa E5 series Shinkansen is one of the newer Japanese bullet trains. It is hitherto the fastest train in regular commercial service.

8. Thalys: 300km/h (186 mph)

Operating numerous daily services connecting Amsterdam, Brussels, Paris, and Cologne, Thalys is one of Europe's  most significant train service. It is frequently used by both leisure and business travellers.

9. Hokuriku Shinkansen E7: 259 km/h (161 mph)

When first inaugurated, the Hokuriku Shinkansen E7 cut travel times from Tokyo to Toyama and  Kanazawa, over the Japanese Alps from four hours to just over two hours.

10. Amtrak Acela Express: 241km/h (150 mph)

America's only entry in the top ten fastest trains of the world, the Amtrak Acela was launched in 2000.  The train's network is limited. It is linked only to the "Northeast Corridor" connecting Boston, New York, Philadelphia, Baltimore, and Washington DC.

This article originally appeared on cntraveler