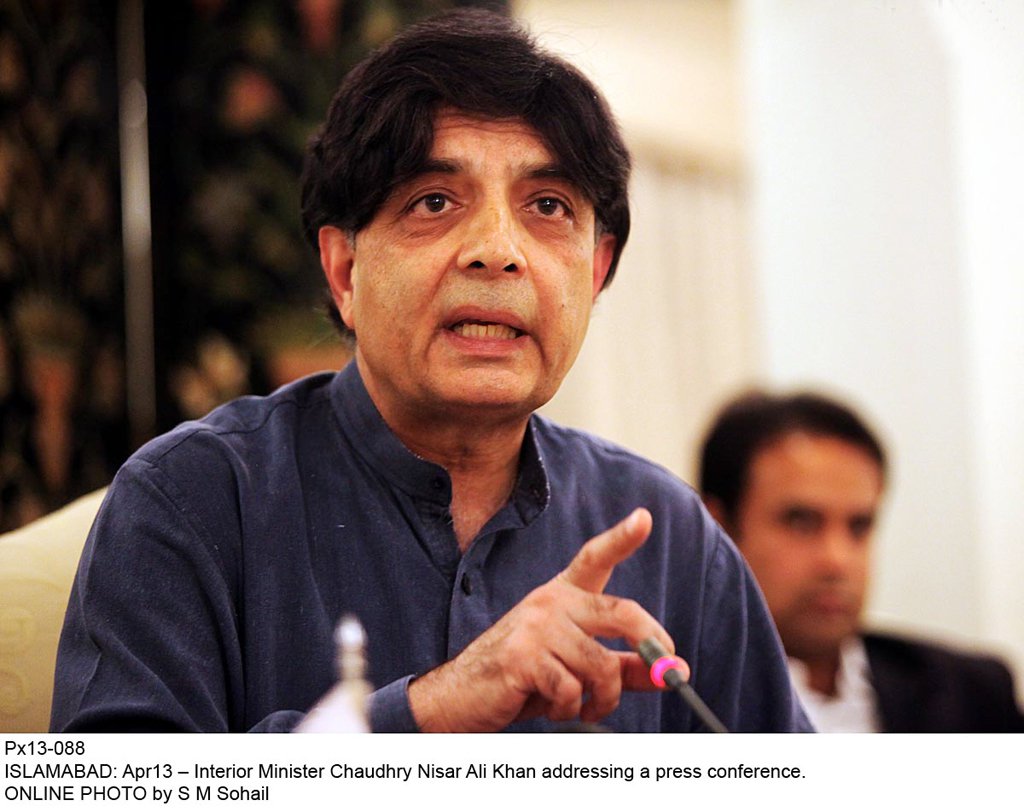 ---
ISLAMABAD: Following a slew of terror incidents across the country, Interior Minister Chaudhry Nisar Ali Khan on Wednesday directed Rangers to support combing operations against terrorist in the capital.

Moreover, the police and administration in the twin cities would enhance surveillance and employ scientific methods with improved intelligence coordination. The directions came as police in Islamabad launched a drive to conduct a survey of tenants in the capital.

During a high-level meeting on Wednesday, Nisar directed the Islamabad Capital Territory (ICT) and Rawalpindi administration to enhance surveillance at various bus stands, guesthouses and hotels to keep a close watch over any suspicious movement by people coming from various parts of the country.

Further, FIA and PTA have been directed to keep a close watch on all elements involved in uploading controversial materials on to the internet which hurt religious sentiments of certain segments of society. Moreover, Nisar ordered that two separate committees should be established, comprising  four members each, in the twin cities which would monitor and survey multiple police check posts around the clock.

The second committee would monitor the combing operations taking place in the two cities on a daily basis. Second tier support for these operations would be provided by Punjab Rangers in arresting terrorists, their facilitators or any anti-state elements within the capital city and its adjoining areas.

Reviewing security of schools, academic institutions and other important building in the twin cities, the Nisar directed that coordination between police and rangers should be further improved. The minister also ordered ICTA to chalk out a security plan for all shrines within three days. He noted that the response to any threat was greater security, not closing them.

Survey for tenants' records

The Islamabad Police on Wednesday decided to conduct a fresh survey in the capital to obtain first-hand information about the tenants or others residing in various areas and determine their background.

The decision was made by SSP-Operations Sajid Kiani. All Zonal SPs have been directed to start this exercise immediately.

He directed officials to conduct the survey in their respective areas, with complete information about the history of people who were living there either permanently or temporarily. SP-City Zubair Sheikh has also finalised a performa for collecting this information.

All landlords have been directed to submit the required details about their tenants and domestic servants.

Search operation

A joint search operation was conducted in and around Dhoke Dana Pind Begowal area on Wednesday morning during which three suspects and a number of weapons and ammunition were recovered.

Officials said they recovered three 12 bore shotguns, two 7mm rifles, six 30 bore pistols, 56 cartridges, and 63 rounds of 7mm bullets.

Published in The Express Tribune, February 23rd, 2017.
COMMENTS
Comments are moderated and generally will be posted if they are on-topic and not abusive.
For more information, please see our Comments FAQ