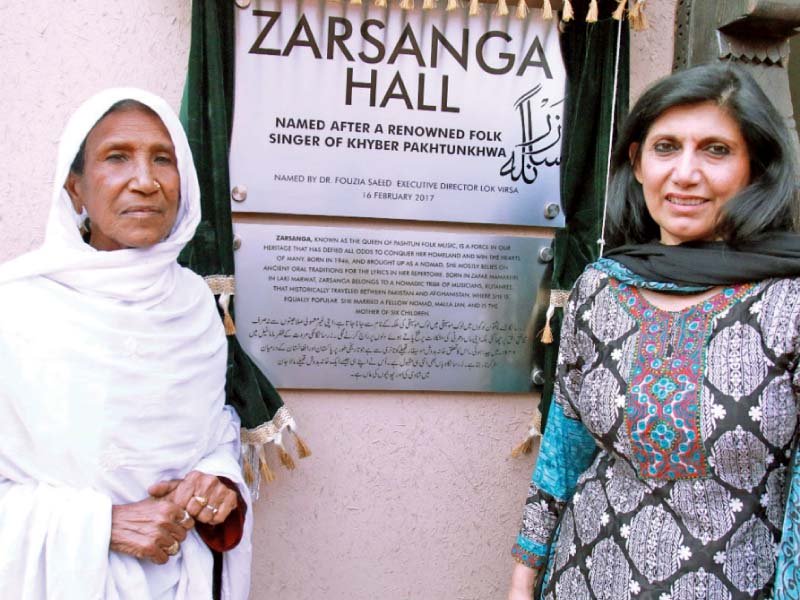 ---
ISLAMABAD: In a befitting tribute to one of Pushto folk music's living greats, the Lok Virsa named a recently renovated hall after singer Zarsanga Jan.

The dedication was made in a ceremony at the Lok Virsa on Friday afternoon in honour of her services to Pushto folk music.

"It is unfortunate that women are disappearing from folk music, but Lok Virsa is making every possible effort to provide an enabling environment so that the mantle of folk music is transferred to the new generation," said Dr Fouzia Saeed, the executive director of Lok Virsa at the ceremony.

With Zarsanga making an appearance at the ceremony, Dr Saeed added that she felt proud to celebrate a legend for her services to Pushto folk music.

"This is not the end of it, and we will keep promoting and celebrating folk singers," Dr Saeed added.

Zarsanga said that such an act would encourage others to take up folk singing.

Known as the 'Queen of Pakhtun Folk', Zarsanga is considered to be a force in folk heritage who defied odds to conquer her erroneous homeland and win the hearts of many.

Born in Zafar Mamakhel area of Laki Marwat, Zarsanga belonged to a nomadic tribe called Kutanree which travels between Dera Ismail Khan and Peshawar. She married a fellow nomad, Malla Jan, and has four children.

Originally a shepherd, Zarsanga's life was transformed at a wedding where she sang. Her voice fascinated a master musician who took her under his wing and helped pave her path to sing on Peshawar Radio. She went on to sing gharhi and folk songs.

Zarsanga, also known as the desert queen of Pushto music, performed in USA, UK, France, Germany, Belgium, UAE, Iraq and many other countries.

Despite that, she prefers to live a simple life in a Peshawar suburb.

Published in The Express Tribune, February 18th, 2017.
COMMENTS
Comments are moderated and generally will be posted if they are on-topic and not abusive.
For more information, please see our Comments FAQ