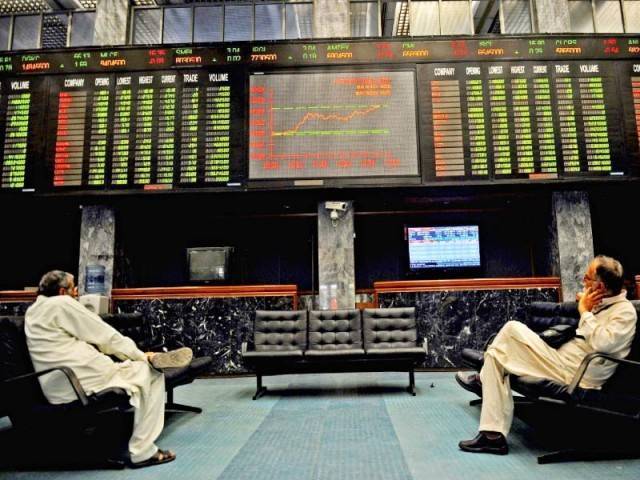 ---
KARACHI: Pakistan equities endured a rough ride on Tuesday, with the benchmark KSE-100 Index falling by as much as 435 points in intra-day trading before closing with trimmed losses as investors remained concerned over recent terrorist attacks.

Bearish sentiment returned to the fore as the index opened negative on fears of the security situation and plunged further in the afternoon. Investors, however, turned to value buying as the index neared 49,500 to pull back the KSE-100.

KSE-100 crosses 50,000 points, touches record high

At close on Tuesday, the Pakistan Stock Exchange's (PSX) benchmark KSE 100-share Index finished with a fall 0.40% or 197.72 points to end at 49,767.91.

Elixir Securities analyst Faisal Bilwani said equities closed a highly volatile session in the red where benchmark KSE100 index traded in a range of over 500 points and settled 0.4% lower.

"Market opened negative on thin volumes after Monday's terrorist attack brought back concerns over law and order while oils led losses on lower global crude," said Bilwani.

"Moreover, steel makers opened deep in the red and witnessed a volatile day on lack of clarity over rumours of stay order against recent anti-dumping duty on Chinese imports as it was earlier thought only two products related to auto industry were possibly going to see a legal challenge."

"While this led to panic, news of increase in retail steel prices brought some respite with sector, barring International Steels (ISL,-0.5%) and International Industries (INIL, -1.6%), closing the day in green," said Bilwani.

PSX emerges as Asia's best-performing market in 2016

"Habib Bank (HBL,+0.4%) ended the day marginally positive with stock seeing wild swings after posting earnings that were slightly higher than street estimates."

"Engro Corp (ENGRO,-1.1%) broke the 10-day winning streak that pushed stock up by near 15% as institutional investors took cue from weakness in the wider market and booked gains."

Topline Securities analyst Hammad Aman said strict compliance on in-house financing by the regulator led investors to remain sceptical as well.

"Reduction in the number of margin eligible securities acceptable as collateral also led investors to trim their positions."

ENGRO and UBL led the index decline by contributing 40 points to the fall. Stocks declined 0.8% and 0.7%, respectively, said the analyst.

Chinese consortium wins bid for 40% stake in Pakistan Stock Exchange

Trading volumes fell to 353 million shares compared with Monday's tally of 362 million.

Shares of 409 companies were traded. At the end of the day, 133 stocks closed higher, 260 declined while 16 remained unchanged. The value of shares traded during the day was Rs17.2 billion.

Aisha Steel Mills was the volume leader with 40.8 million shares, gaining Rs0.10 to close at Rs27.31. It was followed by Power Cement with 37.1 million shares, gaining Rs0.09 to close at Rs19.94 and K-Electric Limited with 23.5 million shares, losing 0.05 to close at Rs10.09.

Foreign institutional investors were net buyers of Rs340 million during the trading session, according to data maintained by the National Clearing Company of Pakistan Limited.