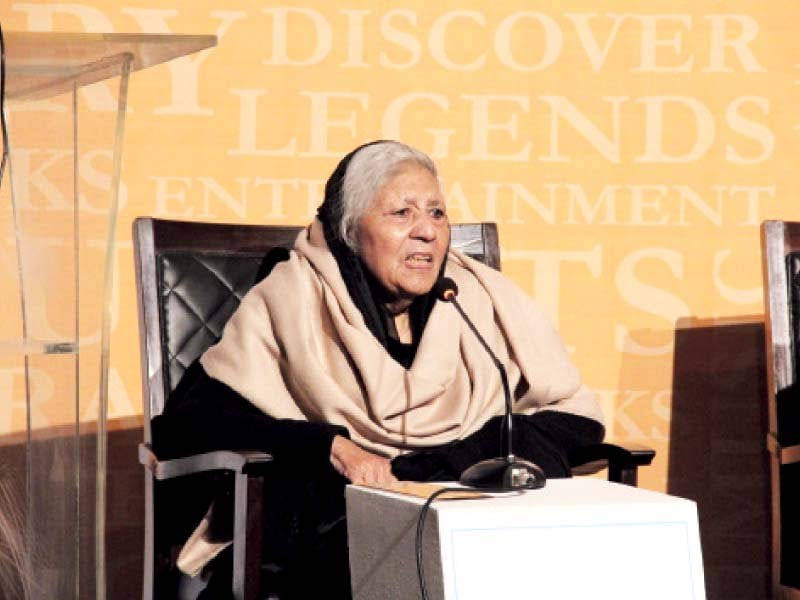 ---
Famous playwright and spiritual writer Bano Qudsia died on Saturday at an age of 88.

She was wife to well-known literary figure Ashfaq Ahmed. Bano earned international recognition for her masterpiece Raja Gidh – an Urdu novel.

Besides, Bano wrote extensively for Pakistani dramas and also contributed to Punjabi literature.

Honour: Lifetime achievement award for Bano Qudsia

Noted short-story writer Bano was given the Kamal-e-Fun Award for 2010 by the Pakistan Academy of Letters (PAL).

Her play Aadhi Baat is considered to be a classic while Pia Naam Ka Dia, Dast Basta, Aik Din, Mard-e-Abresham, Amar Bail and Kooch Aur Nahi are some of the famous novels she authored.

President, PM express grief

President Mamnoon Hussain and Prime Minister Nawaz Sharif expressed their deep grief and sorrow over the death of the noted Urdu writer. The President said that late Bano Qudsia served the nation through her literary contributions, saying these would be remembered for long.

PM Nawaz said that the writer's demise has left a huge space in the literary field and that her writings would be remembered for generations to come.

People also took to Twitter to express their remorse on the noted literati's demise. Some of them are as follows:


Saddened by the passing of a literary legend: Mohtarma Bano Qudsia.

— Imran Khan (@ImranKhanPTI) February 4, 2017
Banu Qudsia. Second pearl lost after her spouse, Ashfaq Ahmad. Both will be remembered always.

— Babar Awan (@BabarAwanPK) February 4, 2017
RIP Banu Qudsia... Just like '16 , 2017 hasn't stopped taking away our treasures... Wonder, what will we be left with...

— Gharidah Farooqi (@GFarooqi) February 4, 2017
COMMENTS (2)
Comments are moderated and generally will be posted if they are on-topic and not abusive.
For more information, please see our Comments FAQ