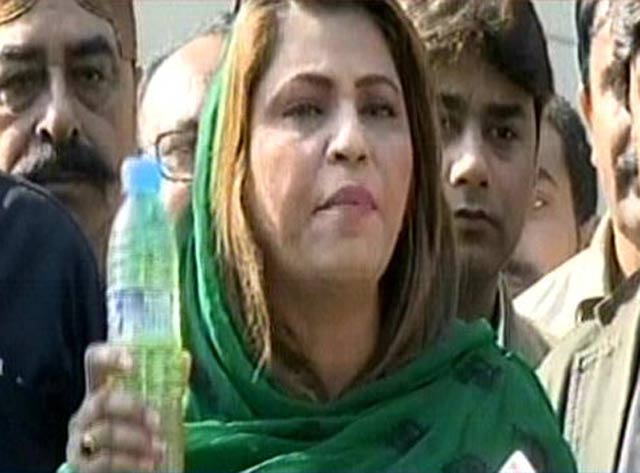 ---
KARACHI: Pakistan Muslim League – Functional (PML-F) MPA Nusrat Seher Abbasi on Monday 'forgave' Pakistan Peoples Party MPA Imdad Pitafi after he apologised and draped an ajrak over her as a symbol of his 'respect' for her.

The apology came during a Sindh Assembly session after Abbasi threatened to set herself on fire if action wasn't taken against the provincial minister who made offensive remarks against her.

"If I don't get justice within the next two days, I will set myself on fire outside the Sindh Assembly," the MPA said while addressing the media in Karachi earlier today.

Uproar in assembly over minister's sexist outburst

Clutching a bottle of petrol in one hand, the MPA demanded Pakistan Peoples Party (PPP) remove Imdad Pitafi from the post of minister for using abusive language against her during a Sindh Assembly session.

"Everyone witnessed how I was harassed in Sindh Assembly," she said. "If Imdad Pitafi is not forced to resign or fired in two days, I will burn myself in front of the Sindh Assembly," Abbasi added.

"Bilawal Bhutto I urge you to get me justice, I know you have taken notice of the issue which means you are aware of the incident," she said, adding that her family and friends are pressurising her to stand up for herself.

However, Pitafi during Monday's Sindh Assembly session apologised to the PML-F MPA. "You are a sister to me and I apologise for my comments," Pitafi said while draping a Sindhi ajrak on her.




The Sindh Assembly session turned messy last week after offensive remarks were made by Pitafi against Abbasi. Though provincial minister Pitafi's 'vulgar' outburst was expunged by the speaker, opposition members decried the incident and demanded action against Pitafi for his derogatory language.

PPP serves notice to Pitafi on Bilawal's orders

A day after the incident, Parliamentary Minister Nisar Ahmed Khuhro served Pitafi a show-cause notice on the directives of PPP chairperson Bilawal Bhutto Zardari. Pitafi is the Sindh minister for works and services. Earlier, in his tweet, Bilawal addressed Pitafi and said that he must apologise. "Absolutely unacceptable behaviour and totally against the ethos of our party that has been led by [the] strongest of women."

Soon after Bilawal's statement, Pitafi admitted his mistake. "I accept my mistake and will also tender [an] apology on the floor of assembly," he said in a statement issued on Saturday, adding that he will submit the answer of the show-cause notice and is ready to accept whatever decision is made.
COMMENTS (1)
Comments are moderated and generally will be posted if they are on-topic and not abusive.
For more information, please see our Comments FAQ