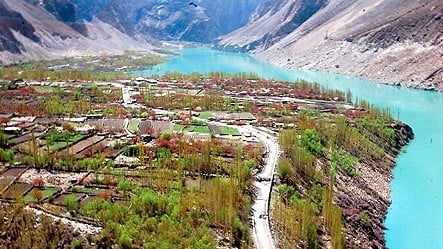 ---
GILGIT: The Army Engineer in Chief claimed to have averted major crisis through spillways at Atta Abad Lake on Thursday. He said the lake bank will not burst.

Speaking at a joint press conference with DG ISPR Athar Abbas, General Niaz said the crisis has been averted by the building of spillways.

He said the creation of a spillway has reduced the hazard by 50%.  Once it is opened, General Nazir believes it will drain the artificial lake within 3 to 4 days.

General Niaz added that low lying areas may suffer damage, once water outflow from the lake begins.

Earlier all government offices and education institutions were closed in Hunza Nagar as the water level lake threatened to burst the banks.

The water level in Hunza lake reached an alarming level of 327 feet. Meanwhile, Karakoram Highway was submerged disconnecting the link between Sosat and Tehsil Headquarter Gilmit.

As part of safety measures, more than 4,000 people were airlifted to safer places.

Sources said that IDPs will be accomodated in schools and teachers will be put on standby to assist the rescue teams.

Thirty six villages were in danger of being flooded if the water were to overflow.
COMMENTS (11)
Comments are moderated and generally will be posted if they are on-topic and not abusive.
For more information, please see our Comments FAQ