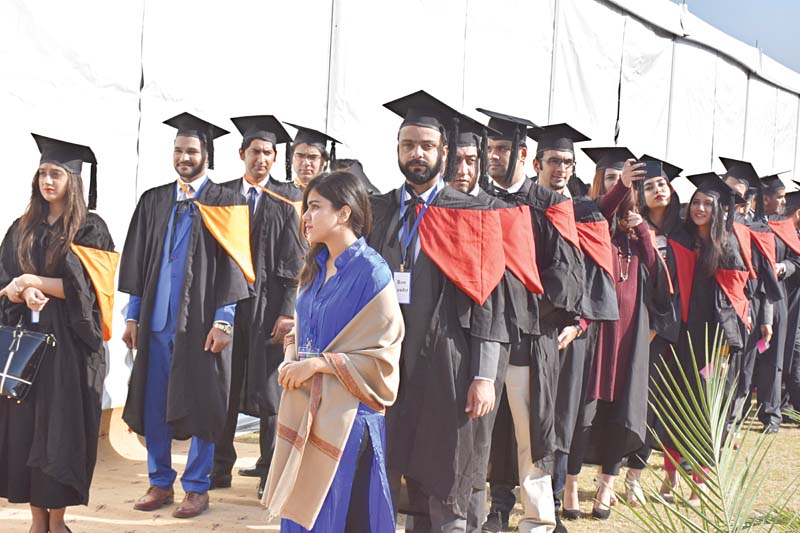 ---
LAHORE: The Beaconhouse National University (BNU) conferred degrees on 412 graduates with 20 of them awarded gold medals for outstanding performance at its 11th convocation on Tuesday. Among them were 129 postgraduates and 283 undergraduates while 14 of the 20 gold medallists awarded for outstanding scholastic achievements were girls.

The graduating students included 81 from the Mariam Dawood School of Visual Arts and Design (SVAD), 51 from the Razia Hassan School of Architecture (SA), 40 from the Seeta Majeed School of Liberal Arts and Social Sciences (SLASS), 93 from the School of Media and Mass Communication (SMC), 70 from the School of Computer and IT (SCIT), 40 from the Institute of Psychology (IP) and 37 from the School of Education (SE).




The Nasim Hijazi Gold Medal was awarded to Hamza Naseer in the MS Public Relations and Advertising programme. Amjad Abdul Karim Randhawa and his wife, parents of Arfa Karim, awarded the Arfa Karim Gold Medal to Syed Haider Mehdi Zaidi in the BSc (Hons) Software Engineering programme.

Other gold medallists included Maysoon Hisham, Moonis Ahmad Shah, Ebaa Khurram, Yasmeen Zahra Salman,  Syeda Zayneb Ali Naqvi, Navaal Irfan, Abdus Samad Khan, Werdah Munib, Sarosh Isar, Nisma Zahid, Arfan Bashir, Omer Hamid, Yamna Arshad, Farheen Rizvi, Lamae Zulfiqar, Zarin Shoaib, Tallat Jabeen and Naureen Zaman.

The ceremony was presided over by BNU Board of Governors Chairperson Nasreen Mahmud Kasuri along with Vice-Chancellor Shahid Hafiz Kardar, Khurshid Mahmud Kasuri, Kasim Mahmud Kasuri and other board members.

Punjab Governor Rafique Rajwana arrived late at the convocation and left the university after learning that the event had been started without him.

Apologising to the audience for the delay, Nasreen said:  "The governor, in his infinite wisdom, decided to leave as we did not wait any more for him after delaying the ceremony for 15 minutes. We cannot let a 1,000 people wait just for one person."

Naureen Zaman, graduating student from the School of Education with a Cumulative Grade Point Average of 4.0 in the MPhil programme in Teaching of English as a Second Language (TESL) presented the valedictory speech.

The ceremony was attended by dignitaries, guests, faculty and parents of the graduating students. Deans of BNU schools, including Prof Dr Gulzar Haider, Prof Dr Tariq Rahman, Prof Rashid Rana, Prof Dr Khaver Zia, Prof Dr Ruhi Khalid and Prof Dr Taimurul Hassan presented the graduates to the vice-chancellor.

Published in The Express Tribune, December 21st, 2016.