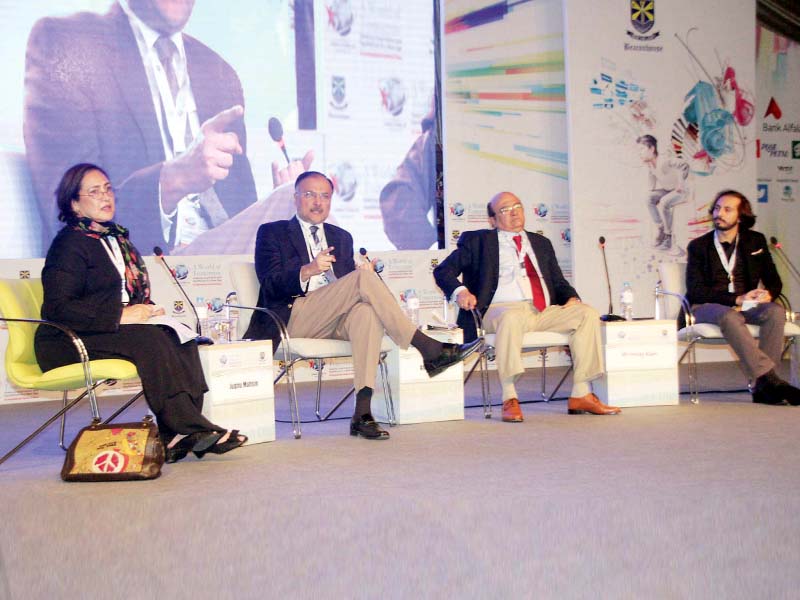 ---
LAHORE: Pakistan is a classic case of glass half empty or glass half full. The country is outperforming regionally and globally but it requires progression and continuation of democracy and policies. Otherwise, the dream for a prosperous country would never come true, said Federal Minister for Planning, Development and Reform Ahsan Iqbal.

Information minister steps down after being identified as leak in 'planted' story

He spoke to the audience gathered for a festival of ideas 'A World of Tomorrow', addressing a session on 'Moving towards a progressive Pakistan' organised by the Beaconhouse School System.

The South Asian Free Media Association (SAFMA) Secretary General Imtiaz Alam highlighted the need to strike a balance between all state institutions, including the establishment and government. "Without equal distribution of resources and good relations with neighbours neither democracy nor peace could flourish in the country," he said.

He also stressed reforms in various areas of social development, especially in health and education. "About 70% of the country's population is still living below $2 a day. Still, 25 million children are out of schools. Even in urban areas, people are facing hardships in getting quality health care services. All these circumstances are affecting the future of the country," Imtiaz said.

The most lawless countries in the world?

Member National Assembly Uzair Khan presented an optimistic view of the whole picture. He indicated that the country had great potential of sustainable growth. Though in some areas, governance was poor, however, democracy was slowly strengthening the country. "Once again, the country is heading towards smooth transfer of power from one democratic government to another, which is very positive," Uzair said.

He also stressed the need of continuity and stability in the democratic process.

Renowned TV anchor, journalist and moderator of the session, Jugnu Mohsin, stressed the need of free press and freedom of speech.

After the session, Ahsan Iqbal gave political statements over Panama leaks and said instead of creating hurdles to disrupt democracy all political parties should prepare for 2018 general elections. "Prime Minister Nawaz Sharif has categorically stated he believes in the Supreme Court of Pakistan and rule of law in the country. Now let the court decide the fate of premier's family in Panama paper case," he said.

Pakistan ranks third on list of countries with worst reputation

Reacting over Pakistan Peoples' Party (PPP) Chairman Bilawal Bhutto Zardari's statement, Ahsan said the PPP and other opposition parties should refrain from derailing democratic system in the country to avoid strong resistance from the people of Pakistan. "The Pakistani nation has the supreme voting power. If the government fails to deliver, it would automatically be eliminated in 2018 general elections," Ahsan said.

He repeated the government's rote-learned speech on the agenda of development and prosperity. "It has attracted the biggest foreign investment in the form of China-Pakistan Economic Corridor (CPEC). While, multi-billion dollars' worth power and infrastructure projects were underway in different stages of development," he said.  The government was committed to eradicate load-shedding from the country by 2018, he maintained.

Published in The Express Tribune, November 6th, 2016.