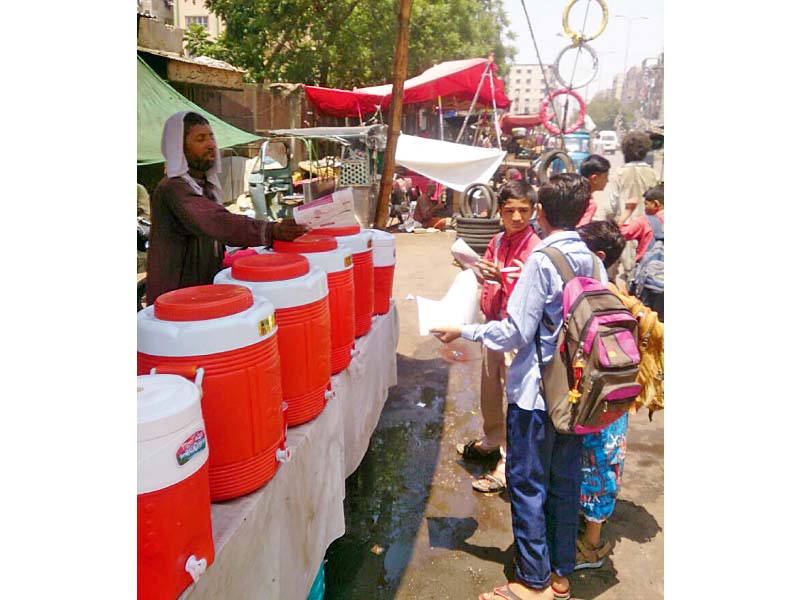 ---
KARACHI: In order to save the people of Karachi from intermittent heatwave likely to strike the metropolis this year, Elaj Trust has kicked off relief activities in District South. According to social activist and lawyer, Mohammad Jibran Nasir, who is a trustee of Elaj Trust, the group uses crowd funding to support its various relief activities.

According to Nasir, the Elaj Trust is running a city-wide heatwave awareness and relief campaign called #HeatKaElaj. "A majority of our volunteers are university and school students whom we engage through social media and our website," he explained.

As temperature rises, city goes into preparatory mode

As part of their relief operation, the Elaj Trust, in coordination with the office of South deputy commissioner Muhammad Saleem Rajput has set up 10 water and oral rehydration salt points in Karachi at Jinnah hospital, Civil hospital, Lyari General Hospital, Lyari's Khadda Market, Zainab Market, Korangi Crossing, Shaheen Complex, Jamia Cloth Market, Garden Zoo and Aisha Bawany School on main Sharae Faisal.

According to Nasir, they were able to help more than 70,000 people during the first spell of heatwave that struck the city between April 22 and April 25 this year.

Elaj, he said, is now extending its relief activities to 20 more locations in District South from May 1 and will also be assisting the city government by sending volunteers and ice blocks to 28 basic health units in the district.

Need to stop rapid urbanisation to prevent more heatwaves'

On a question regarding their limitation to District South, Nasir responded that so far, they had been unable to meet the deputy commissioners of other districts.

Meanwhile, Rajput also confirmed to The Express Tribune that he had given the Elaj Trust permission to carry out their relief work and said they were doing an excellent job.

The students who rendered their services voluntarily were from different universities of Karachi and many other volunteer requests from students have started pouring in, said Nasir. Salman, a student who graduated from NED University, said that he also volunteered with the trust last year. "After a year, they [Elaj Trust] contacted me again and now I am with them for three months," he said.

Don't blame the heatwave

As part of their awareness activities, the Elaj Trust is reaching out to people through flyers, which are being distributed at busy traffic junctions and mosques in Karachi, according to Nasir. "We are extending the awareness campaign to other avenues such as billboards, streamers and even comic books, which will be used to educate students in schools in low-income areas on prevention, identification of symptoms and first aid for heatstroke patients," he said. "Keeping in view the barriers of literacy, our awareness campaign uses the medium of pictorial education."

Published in The Express Tribune, April 29th, 2016.
COMMENTS
Comments are moderated and generally will be posted if they are on-topic and not abusive.
For more information, please see our Comments FAQ