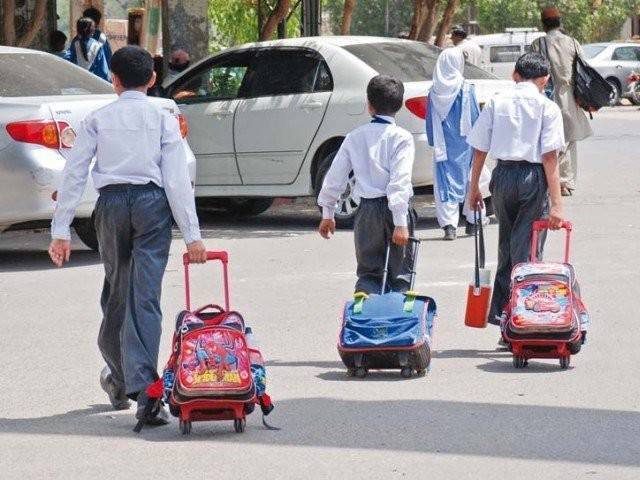 ---
ABBOTTABAD: An awareness walk was held in Abbottabad on Tuesday to encourage parents to enrol their children in schools.

The initiative was arranged by students and teachers of Government JICA Model School, Dhamtour and was led by Sharafat Khan, an official of the elementary and secondary education department, and the school's principal Abid Khan.

Participants walked from the school building to the main bazaar. Schoolchildren, parents and teachers participated in the event. They carried banners and placards and highlighted the importance of sending children to school.

Speaking on the occasion, Sharafat and Abid shed light on the government's education policy. They asked the parents to join hands with elementary and secondary education department to ensure all children in the province go to school.

Participants said the provincial government was utilising all available resources to increase the literacy rate.

Last week, the elementary and secondary education department arranged a walk on Thursday in Talash, Lower Dir to raise awareness for enrolment in educational institutes.

Speakers on the occasion said the state, society, parents and teachers should join hands to improve the literacy rate in the country. They insisted the government could do nothing if parents and the society at large do not contribute in promoting education.

Teachers, students, parents and community elders took part in the walk. Participants carried banners and placards.

District Deputy Education Officer Ali Haider, Anjuman Tajaran Talash President Dr Noor Muhammad and Timergara tehsil nazim Riaz Muhammad were among those who addressed participants of the walk.

On the other hand, the department of sociology and social work at University of Malakand in collaboration with National Commission for Human Development (NCHD) also organised an awareness walk in Chakdara, Lower Dir for the same purpose.

The varsity's students, social and political activists, participated in the walk.

Addressing a seminar after the walk, NCHD Khyber-Pakhtunkhwa Director Anwar Iqbal and other representatives from the organisation said education is the basic right of every child. They added it was the responsibility of the state to provide education to all children in the country.

Published in The Express Tribune, April 27th, 2016.
COMMENTS
Comments are moderated and generally will be posted if they are on-topic and not abusive.
For more information, please see our Comments FAQ