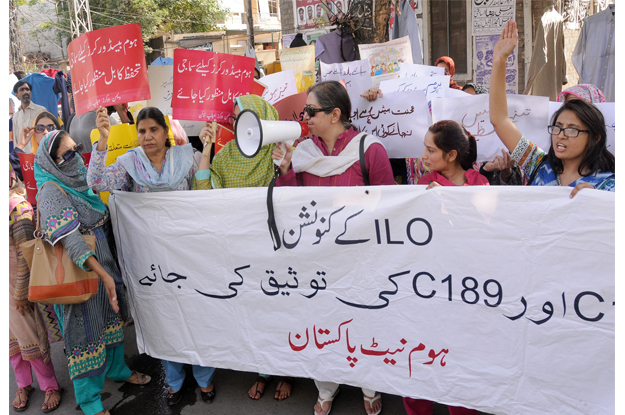 ---
LAHORE:



The government must announce its policy on home-based workers by May 1, Labour Day, Jalwat Ali of the Home-Based Workers' Progressive Union said at a demonstration in front of the Press Club on Thursday.




Scores of home-based workers and activists gathered in front of the Press Club and demanded that the government adopt a policy recognising home-based workers as labourers. They demanded that the rights granted to labourers be extended to home-based workers.

"We are workers. We contribute to the economy. We don't get minimum wages and live in abject poverty," said Samina Farooq, a home-based worker from Lahore. She said their contribution to the economy should be recognised by the government and announcing a policy was the first step in this regard. "All we want is to be recognised as workers under law."

The workers shouted slogans demanding that the government protect their rights.

Ume Laila Azhar, a representative of HomeNet Pakistan, said that a policy in this regard had been drafted and was awaiting approval from the cabinet. She said the policy would include home-based workers in the social protection mechanism. She said the government had taken several well-meaning steps for the protection of women but it had overlooked the struggles of home-based workers. She said home-based workers were not incorporated into national data collection systems or into development agenda programmes.

Jalwat Ali said the workers would continue to protest for their rights. "The government should look into the matter and announce the policy by May 1."

The workers said if the government did not promise to announce the policy by May 1, they would mobilise more home-based workers and organise a march to the Punjab Assembly next Thursday. They had held a similar protest last week on Thursday as well.

Published in The Express Tribune, April 22nd, 2016.