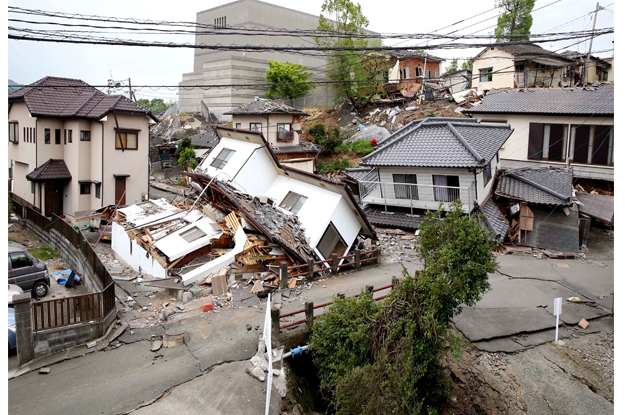 ---
KUMAMOTO: Scores of people were feared buried alive on Saturday after two powerful quakes hit southern Japan a day apart, killing at least 41 people, as a forecast storm threatened more devastating landslides.

Homes, roads and railway lines were swept away when huge hillsides collapsed as thousands of tonnes of mud were dislodged by the thunderous seismic tremors.

Buildings were reduced to rubble, including a university dormitory and apartment complexes, with dozens of people unaccounted for over a wide area.

"We are aware of multiple locations where people have been buried alive," Chief Cabinet Secretary Yoshihide Suga told a press conference.

"Police, firefighters and Self Defence Force (military) personnel are doing all they can to rescue them."

More than 90,000 people have been evacuated, including 300 from an area near a dam thought to be at risk of collapse.

A hospital was left teetering by Saturday morning's 7.0-magnitude quake, with doctors and patients rushed from the building in darkness.

Isolated villages in mountainous areas near the city of Kumamoto were completely cut off by landslides and damage to roads. At least 500 people were believed trapped in one settlement and expected to spend the night in public buildings, reports said.

Aerial footage showed a bridge on a main trunk road had crashed onto the carriageway below it, its pillars felled.

The quake came as emergency responders were working to reach areas hit by a 6.2-magnitude tremor that struck late Thursday. Both quakes occurred very close to the surface and caused violent shaking.

Published in The Express Tribune, April 17th, 2016.
COMMENTS
Comments are moderated and generally will be posted if they are on-topic and not abusive.
For more information, please see our Comments FAQ