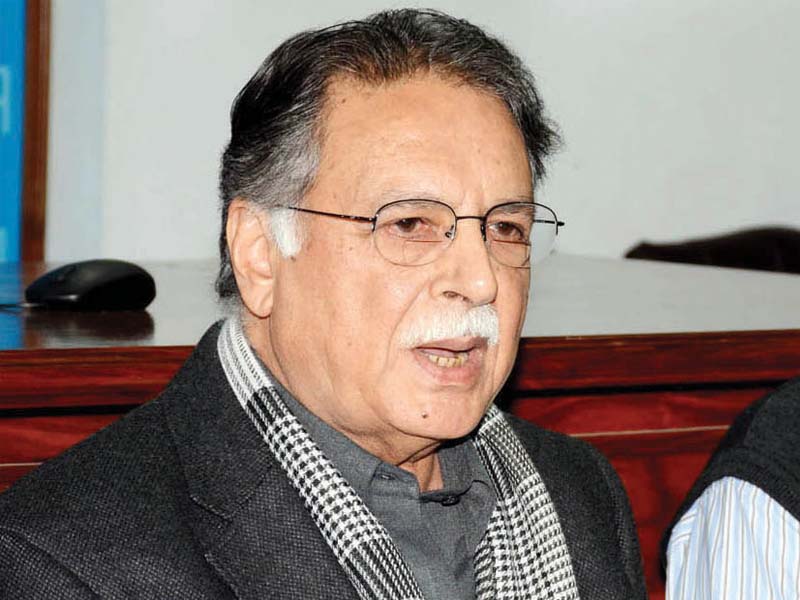 ---
ISLAMABAD: Information Minister Pervaiz Rashid has asked Pakistan Tehreek-e-Insaf chief Imran Khan to put his own house in order before pointing fingers at others.

Speaking on private television channels, Rashid countered accusations against Prime Minister Nawaz Sharif's family regarding offshore accounts as revealed by the Panama Papers. He said that the papers did not accuse anyone of wrongdoing, rather they just provided details of accounts.

Responding to Imran's speech on Sunday evening in which the PTI chief had levelled several accusations against Nawaz, Rashid said these accusations have been repeated ad infinitum for the past three years.

He asked why has Imran not submitted details about the donations and other funds received from around the world to the Election Commission.

Rashid said a case was pending in the ECP against Imran for embezzlement of party's funds while some people were also pointing fingers at the management of Shaukat Khanum's funds as well.

The minister further asked the PTI chief whether he would tender an apology for hatching conspiracies, forcing Chinese President Xi Jinping to postpone his trip to Pakistan and for inciting the public.

Talking about Imran's demand for forming a judicial commission under the supervision of the chief justice to probe finances of the prime minister's family, Rashid said that the PTI chief does not accept the decisions of such commissions.

Rashid pointed to the judicial commission formed by the government last year under the Chief Justice to probe allegations of rigging in elections. The minister said that though the commission had been formed in response to Imran's demands yet he refused to accept its verdict. "To appease Imran's desires, a commission headed by him could be constituted where he could act as the petitioner, judge and prosecutor to get judgements according to his will," Rashid said.

Referring to Imran's so-called 'address to the nation' Rashid said the PTI chief had given childish statements which should not be taken seriously. He added that Sunday's speech finally fulfilled Imran's desire.

Referring to the teachings of Islam Imran had talked about in his speech, Rashid asked whether the PTI chief followed these himself and whether he will pay the labourers who have been protesting outside Bani Gala for the past two years.

Published in The Express Tribune, April 11th,  2016.
COMMENTS
Comments are moderated and generally will be posted if they are on-topic and not abusive.
For more information, please see our Comments FAQ