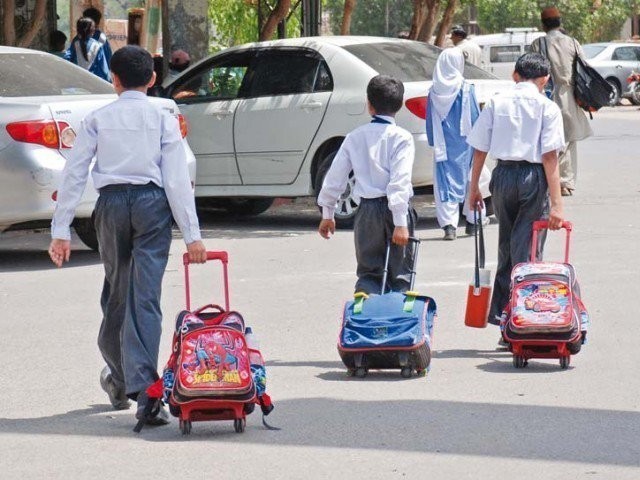 ---
QUETTA:



Unmindful of the education emergency in Balochistan, private school owners have revised tuition fees on the pretext of security.




In the wake of the December 2014 attack on the Army Public School (APS), the federal government as well as the provincial governments directed all private educational institutions to ensure security on the premises of all schools, colleges and universities.

Several private-run educational institutions attempted to comply with strict security measures by imposing a hefty increase in their admission and monthly fees, shifting the burden to the already hard-pressed parents.

Private schools: SHC reserves order on school fee hike petitions




"My three children have been studying in a private school, but the recent surge in admission fees is forcing me to shift my children to the government school," government employee Zulfiqar Ali Qureshi told The Express Tribune.

"In the name of security, private schools are taking huge sums from parents; the matter should be addressed by the provincial government," he said.

Parents also claim that many prestigious schools have hiked their admission fee up to 30 to 40 per cent. The admission fee that was Rs9,000 last year has been increased to Rs15,000, they say.

A teacher at one of the leading private schools told this newspaper on the condition of anonymity: "By imparting quality education and providing a secure environment, private schools are compelled to increase admission and monthly fees."

Shakeel Ali, an educationist and former member of the Private Schools Association, said: "Being an educationist, I am against the recent hike because our objective is to educate the children and not to make money."

Overlooked issue: No law limiting annual fees charged by private schools

Additional secretary of education Aziz Ahmed Jamali said that there are 2,000 private schools in Balochistan, out of which 1,000 schools are located in Quetta and the rest are in other interior territories of the province.

Talking to The Express Tribune, Jamali said that last year the education department passed a bill seeking a check on private schools but the proposed legislation was criticised by several civil members and private school bodies.

In October 2015, Private Educational Institution Registration and Regulation Authority Act, 2015 was passed by the Balochistan Assembly without any review in standing committees and debate in the assembly.

Section-3 of the private education bill, which empowered Balochistan Education Foundation (BEF) as a private regularity authority, is the main reason for criticism against this bill.

It is alleged by certain educationists that the entire bill was drafted to regularise the BEF and benefit its employees who are affiliated with one of the ruling political parties in Balochistan.

Published in The Express Tribune, March 21st,  2016.