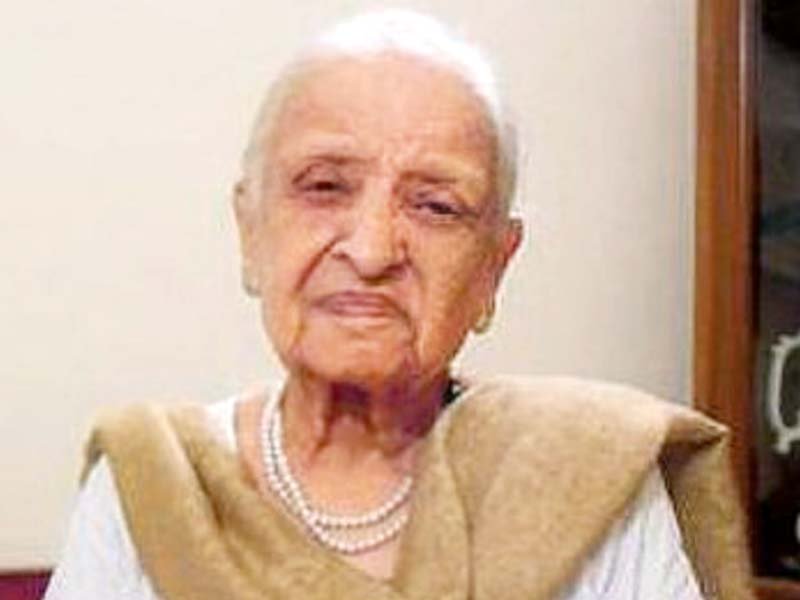 ---
KARACHI: Well known Urdu novelist and dramatist, Fatima Surayya Bajia passed away on Wednesday evening after a prolonged struggle with illness.  She was 86 and had been busy with various social welfare activities, particularly in the sphere of education.

Although she never went to school herself, Bajia become an institution in the field of literature and drama, both for her contemporaries and those who followed them.

Born in Karnataka, India, Bajia's family migrated to Pakistan soon after partition. Her grooming in the arts under the guidance of her father began around that time.

Playwright Fatima Surayya Bajia passes away at 85

Despite severe financial constraints after their migration, the family continued to practise fine arts and word play, and instilled in Bajia and her siblings a love for all things creative. Bajia would write her first novel when she was only a teenager.

After an early divorce, Bajia did not marry again and chose instead to look after her nine siblings, who included Anwar Maqsood, Zehra Nigah and Zubaida Tariq to name a few. Growing up under her tutelage, all of them would go on to make great contributions to the field of arts in Pakistan.

"I lost my mother today," Maqsood, who was with Bajia in her final moments, told The Express Tribune after her death.

Beyond her responsibilities as the 'mother' of her household, Bajia pursued a great career in writing for television starting in the '60s. She made her television debut with the play Auraq, produced by PTV Rawalpindi, and from then on, there was no looking back. Other popular plays penned by her include Afshaan, Aroosa, Zeenat, Ana, Aagahi, Faraz Aik Karz and Abgeenay to name a few.

Fatima Surayya Bajia's biography launched

"I first met Bajia when she got involved in Auraq and through her I came to know the entire family," reminisced veteran actor Rahat Kazmi.

"She had an edge over her contemporaries through her knack for digging out classic old novels and adapting them for the screen," he said. "By doing this, she also made sure we Pakistanis remained in touch with our heritage and history."

Kazmi added that as a pioneer of PTV, she worked tirelessly right from the network's beginning.

PTV producer Qasim Jalali praised Bajia for tackling humane issues and stressing morality through her plays. "From classic Urdu literature to children's stories, her work as a writer was splendid," he said.

He also recalled Bajia's tendency to become engrossed in all aspects of production, including set design, costume design and makeup. "She would engage herself in each part of the production process for any drama she did for PTV. Very few people have this quality," he said.

Tribute: 'Intizar Husain a memory of the past, vision for the future'

He recalled her work on the historical play Babur in particular. "Despite financial and technical constraints, the Mughal garb designed by Bajia for Babur is possibly the best example of costume design in the country," Jalali said. "She read scores of books on the era for research. Her work on that play and others touched a level of perfection no one else could achieve."

Bajia stepped into the entertainment industry at a time when male dominance in the field posed a huge challenge for women trying to break in. As such, many women who entered the field after Bajia looked to her as a guiding light.

"Women like her opened doors for us in a society that is still reluctant to accept us as equals," veteran actor Atiqa Odho said.

"Looking at her legacy while considering the role she played in the upbringing of her siblings makes her achievements look even more remarkable," said playwright Haseena Moin.

Bajia received numerous awards for her contributions to Pakistan. The accolades included the Pride of Performance and Hilal-e-Imtiaz. She also received Japan's highest civil award for initiating many cultural exchanges between the two countries.

Her biography titled 'Aapki Bajia' was released in 2012 and till her death she was involved in a number of welfare projects.

"She [Bajia] spent her whole life honestly. She dedicated her entire life to the progress of the country and did nothing for herself," her brother Maqsood said. "She is an ideal personality not only for me, but everyone in Pakistan, especially the youth."

Bajia's Namaz-e-Janaza will be offered after Zuhr prayer at 36-D Miran Mohammad Shah Road, Mohammad Ali Society. She will be buried at the Gizri graveyard.



Published in The Express Tribune, February 11th, 2016.