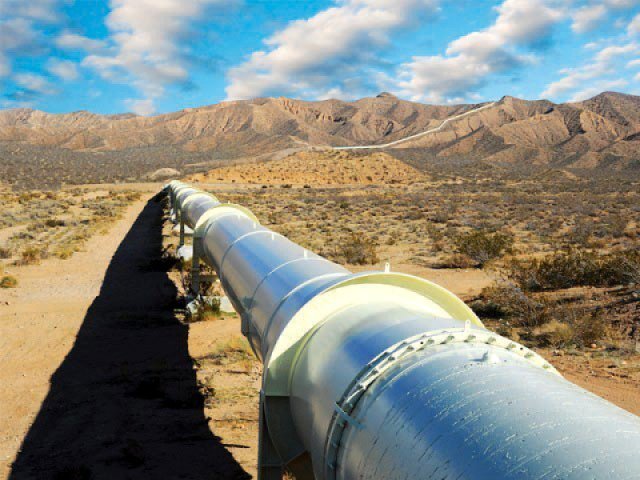 ---
ISLAMABAD:



Pakistan's two-billion-dollar LNG pipeline project has hit a snag with Washington slapping a set of sanctions on the Russian firm designated to work on the scheme.




Earlier, Pakistan was unable to execute the Iran-Pakistan (IP) gas pipeline project because of sanctions slapped on Tehran by the United States and the European Union.

Karachi to Lahore pipeline: Pakistan, Russia seal $2 billion energy deal

The Russian government had signed a deal with the Pakistani administration to lay a $2bn North South Pipeline from Karachi to Lahore to transport imported LNG, nominating the firm RT Global Resources (RTGR) to execute the project. Russian President Vladimir Putin was to visit Pakistan to perform the ground-breaking ceremony of the project.

"Now we have found out that the US has imposed sanctions on RTGR, causing bottlenecks in executing the LNG pipeline project," a Pakistani official said, adding that the US had also stopped Pakistan from executing the IP gas pipeline project.

After the latest development, Pakistan and Russia are facing an uncertain situation as regards awarding the contract to RTGR.

The two countries had signed a government-to-government deal, and RTGR and Pakistani firm Inter State Gas Systems were to sign a commercial agreement to execute the project.

LNG pipeline, terminal: Govt to decide on Chinese firm's bid in a month

An official said the Russian government was evaluating the sanctions imposed on the Russian firm while Pakistan was yet to make a decision.

The two governments had signed a deal in October 2015 to construct a pipeline to transport liquefied natural gas from Karachi to Lahore.

Moscow had agreed to lend Islamabad $2 billion for the project. In return, Islamabad would award the contract of laying the pipeline to RTGR without holding a bidding process.

The firm, which is a Russian state corporation, would lay the 1,100km pipeline with a capacity of 12.4 billion cubic metres per annum to connect LNG terminals in Karachi with those in Lahore.

Pakistan has worked on a similar model with China under which a Chinese firm would lay an LNG pipeline from Gwadar to Nawabshah and build an LNG terminal at the deep-sea port at a cost of $2.5 billion.

Liquefied natural gas: Govt seeks to negotiate Gwadar pipeline cost

The financing for the LNG pipeline had come as a prelude to Russia's offer to sell LNG to Pakistan. Russia is the second-largest producer of natural gas in the world, and was seeking to diversify its export markets after a spat over Ukraine with the EU, its main buyer.

The pipeline would be laid on the basis of build, operate and transfer. The Russian company would transfer it to Pakistan after 25 years.

Under the agreement, Pakistan would provide 15% equity while 85% funding would be provided by the Russian firm. The first phase of the project is expected to conclude by December 2017.

Published in The Express Tribune, January 14th, 2016.