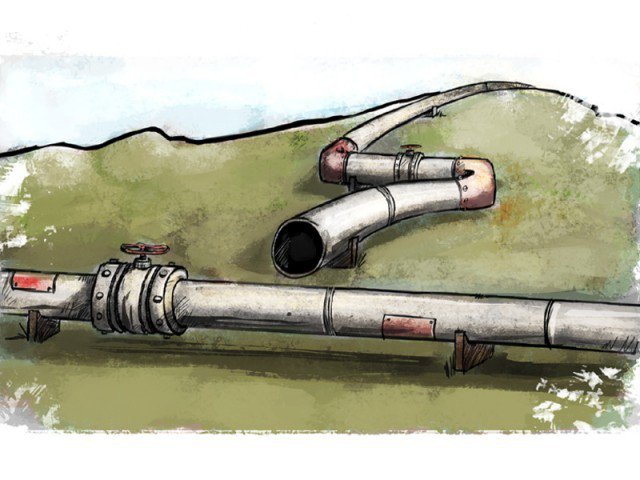 ---
KARACHI:



On the evening of November 11, 1992, a gas pipeline exploded, killing two people on the spot and critically injuring another who passed away after a few days, recalls Muhammad Aslam, a book store owner in Urdu Bazaar.




Despite the passage of over two decades, Aslam remembers the incident vividly as it occurred a few shops away from his. Many people were injured and most of the shops around the explosion site were completely destroyed, he said.

Karachi to Lahore pipeline: Pakistan, Russia seal $2 billion energy deal

A week ago, a fireball allegedly caused by a broken gas line inside a flood water drain in Delhi Colony left two people with serious burn injuries and left many others with minor injuries.

The blast reportedly occurred because of corrosion in the pipeline. According to a nearby store owner, Aqil Jamal, in the past few months around eight blasts have taken place due to corrosion in the same pipeline.

He claimed that officials of the Sui Southern Gas Company (SSGC) have since halted supply of gas in the pipeline to avoid more such incidents.

SSGC managing director Khalid Rehman acknowledged that the company's pipelines have corroded, saying however that they need a huge sum to replace the rusting network of pipelines.

Pakistan, Russia sign gas pipeline agreement

'It's not easy'

"It's a Herculean task to replace the pipelines and find leaking portions," said Saeed Ahmed Larik, the company's acting senior general manager. "Until now, we have replaced 20 per cent of the 16,000 kilometere distribution network in Karachi from mild steel to polyethylene pipelines."

Larik insisted that the company cannot undertake the rehabilitation work on its own. "We need to seek permission from the district government, cantonment boards and other related departments before we take up rehabilitation work," he explained. These departments use delaying tactics to give permissions for rehabilitation and restoration work, he complained.

Going way back

The natural gas pipeline network in the city was laid in 1954 and stretches 16,000km in length. From the early 1990s, SSGC had a plan to rehabilitate leaky portions and pockets but was only able to cover 20 per cent of the entire network.

Lengthy process and limited budget

Explaining the process before any rehabilitation can take place, Larik said they make sure through physical surveys of underground pipelines that all factors, including the pipe's age, number of leakages per kilometere, pipe's condition, cathodic protection system and line losses are beyond repair and then try to rehabilitate the entire pocket.

For that purpose, the company conducts scheduled maintenance of 3,500km in a year and can only convert 200km to 300km to polyethylene in its annual budget, which he termed limited.

LNG pipeline, terminal: Govt to decide on Chinese firm's bid in a month

According to Larik, the leakages in SSGC pipelines are due to third party damages to the coating, which results in pipeline corrosion. He added that any another utility service does not cause as much harm as a gas pipeline if it gets damaged since gas bursts with a loud explosion and fire. 

Free for all

Discussing problems faced when laying gas pipelines, he said to get a right of way for the underground distribution line in Karachi is nearly impossible.




In developed countries, every service provider has their own underground corridor but, in Pakistan, there is no such practice, he said, adding that as a result, when any service provider wants to dig a road to lay the line, they damage the property of others.

As to the deadly gas blasts from faulty pipes, Larik urged people to step up and play their role as active citizens by informing authorities of any gas leak or broken pipe so prompt preemptive action can be taken. He also accepted SSGC staff's negligence behind such events in some cases.

Published in The Express Tribune, January 11th, 2016.
COMMENTS
Comments are moderated and generally will be posted if they are on-topic and not abusive.
For more information, please see our Comments FAQ