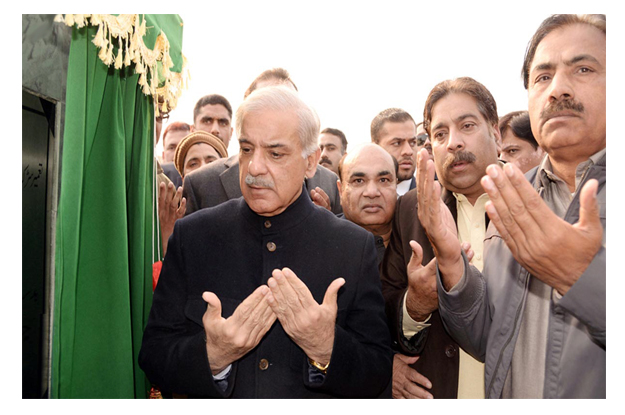 ---
LAHORE:



A total of Rs150 billion will be spent for the construction and rehabilitation of rural roads under Khadim-i-Punjab Rural Roads programme till 2017-18, Chief Minister Shahbaz Sharif said on Wednesday.




He was inaugurating a 43-kilometer long road in Wahndo, Kamoke under the Pakkiyan Sarkan—Saukhey Painday programme at a cost of Rs380 million. The chief minister travelled on a section of the road on a passenger wagon and appreciated the standard of work.

Addressing the people, the CM said that Khadim-i-Punjab Rural Roads programme was started last month. "All rural roads will be repaired till 2017-18. It will bring an economic revolution and prosperity to rural life," he said.

The chief minister said that the people should play their role in looking after the roads. "The maintenance of roads is your responsibility as well as of the government. If you do not discharge your duty properly, these roads will be damaged within two to three years despite the fact that they are expected to remain in good condition for 20 to 25 years," he said.

He said that the Saaf Pani Project had been started in south Punjab. "Rs17 billion has been provided for this purpose in the current year. Potable water is a right of every citizen. The Punjab government has decided to provide drinking water to the 35 million people living in rural areas by 2017-18," he said.

The chief minister said that the Kissan Package payments to farmers were for compensating their losses. "The Kissan Package is being speedily implemented in the province.

aThe Punjab and federal governments have given Rs20 billion each for the Kissan Package. The price of a fertiliser bag has also been reduced by Rs500. Financial assistance of Rs5,000 per acre is being given to the cultivators of rice and cotton, who have up to 12.5 acres of land. Prosperity of rural people will result in progress of the country," he said.

Shahbaz Sharif said that he will again visit the area once the Saaf Pani project started there. He said that work on Aziz Cross project should be immediately started for resolving traffic problems of Gujranwala city.

z He said that planning had been completed for the project and funds had been provided. Referring to the murder of MPA Shamshad Ahmad, the chief minister said that it was a tragedy. "Investigation has been carried out in the case and some of the accused have been apprehended," he said.

Published in The Express Tribune, December 24th, 2015.