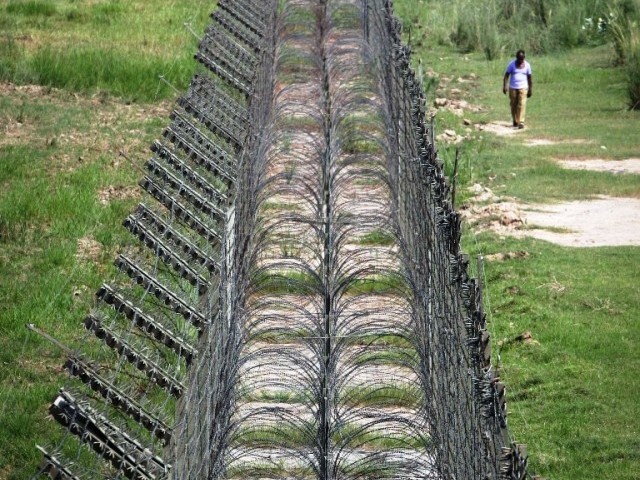 ---
ISLAMABAD:



India 'willfully' violated the 2003 ceasefire more than 240 times since Narendra Modi was elected as the prime minister of his country in May 2014, a Senate panel was told on Friday.




"As many 247 ceasefire violations – 163 along the Line of Control and 84 along the working boundary – were committed by Indian forces under Modi's government," Defence Secretary Lt-Gen (retd) Alam Khattak informed the Senate Standing Committee on Defence.

India violated truce 35 times since June 9




"At least 39 civilians were killed and another 150 were injured as a result of those violations," he said while briefing the panel headed by Senator Mushahid Hussain Syed on the security situation on Pakistan's eastern and western borders.

According to Khattak, ties between Islamabad and New Delhi have worsened because of 'willful' violations of the 2003 ceasefire accord by Indian troops.

"Although the directors general military operations (DGMOs) of both countries speak via a hotline every Tuesday, the ceasefire violations by India have raised tensions," he said.

The situation on Pakistan's western border appeared no less tense. "Till date, there have been 132 cross-border violations from the Afghan side," Khattak said.

The defence secretary also briefed the panel on compensation packages for the families of those martyred in the grisly massacre at the Army Public School in Peshawar.  The committee had directed the defence ministry to provide 'full and comprehensive' compensation to the martyrs' next of kin.

India resorts to unprovoked firing at LoC

"Three kinds of compensation packages have been approved and completed, one each from the federal government, the Pakistan Army and the Khyber-Pakhtunkhwa government," Khattak said.

"The federal government has provided Rs183 million to the next of kin of shuhada (martyrs), including a lump-sum grant of Rs3 million as monetary compensation, an education grant for children's study for the next 10 years and a housing construction grant of Rs5 million per person," he told the senators.




"Pakistan Army has also arranged Umrah for the next of kin of 147 persons, free education to civilian kin of the martyred students, jobs for the next of kin and admissions in cadet colleges for injured students, who were also sent on visits to friendly countries like China, Saudi Arabia, Turkey, Oman, Tajikistan and the United States."

The defence secretary added that the K-P government also provided a compensation and assistance package amounting to Rs411 million or Rs2 million for each martyr. The provincial authorities also honoured all martyrs with Gallantry Awards and compensated those injured in the attack as well.

Unprovoked Indian firing: BSF violates ceasefire at LoC again

"All the 122 shuhada will also have government schools named for each of them in all provinces of Pakistan," Khattak said.

The Senate defence committee, appreciated the thoroughness and detail with which compensation had been provided, and expressed satisfaction with the process.

The panel, meanwhile, unanimously passed a resolution proposing a Gallantry Award for Flight Lieutenant Maryam Mukhtiar Shaheed, who on November 24 became the first female air force pilot in the Muslim world to embrace martyrdom in the line of duty.

Published in The Express Tribune, December 5th,  2015.