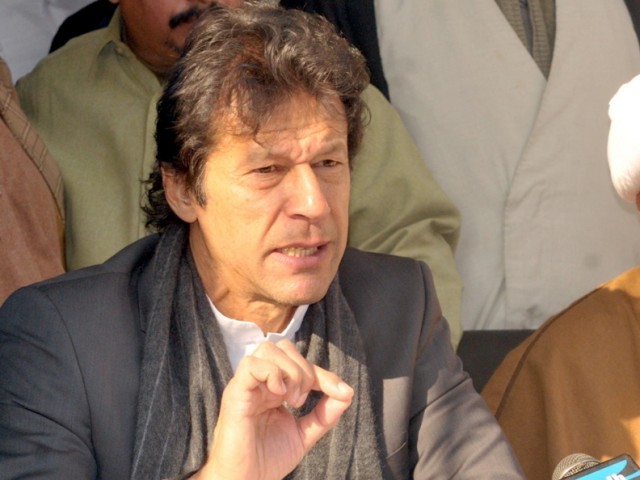 ---
ISLAMABAD: Pakistan Tehreek-e-Insaf (PTI) chairman Imran Khan has said Pakistan Peoples Party (PPP) co-chairperson Asif Zardari was involved in embezzlement of Rs6 billion of the Pakistani people.

"It was your [Pakistanis] money that he has escaped with. I ask how many people came out of their homes to protest against this?" Imran said while addressing a rally in Islamabad.


Zardari's digested 6 billion rupees taken from this nation but no action has been taken by this govt @ImranKhanPTI #ISBRisesWithIK

— PTI (@PTIofficial) November 27, 2015


The PTI chairman said it was due to the growing corruption that Pakistanis now owed a huge amount of loans.

Imran Khan blasts govt's economic policies

"During the previous government, each Pakistani owed Rs35,000 and now this amount has reached to Rs110,000," he said.


Before their govt each pakistani was in debt of Rs.35K which is now increased to more than a 100K @ImranKhanPTI #ISBRisesWithIK

— PTI (@PTIofficial) November 27, 2015


Imran also denounced government restrictions on political campaigning, saying due to the barricades installed in the capital city he had to take a route through farming fields to reach the campaign venue.

"I especially thank my female supporters who reached the jalsa site despite a lot of barricades," he said.

The PTI chief also lamented the fact he wasn't allowed to campaign for LG elections as a party chairman.

Not only army, people also demand better governance: Imran Khan

"If we have democracy in our country, is it not my right to come to my people and talk to them?" asked Imran.

He said while the prime minister could go to Lodhran, and give package of Rs2.5 billion because of the upcoming elections, he was not allowed to get involved in political campaigns.

"Give me example of any democracy where a party chairman is not allowed to address a gathering?"


Mian Sahab; you are giving 2.5 Arab rupee package to ppl of lodhran bfr NA154 poll; Is this fair? #ISBRisesWithIK @ImranKhanPTI

— PTI (@PTIofficial) November 27, 2015


Concluding the speech, Imran said his party was not alone as the people stood beside him.

When the next election will come, we will not even need to campaign. Our work in KP will speak for itself, added the PTI chairman.
COMMENTS (12)
Comments are moderated and generally will be posted if they are on-topic and not abusive.
For more information, please see our Comments FAQ