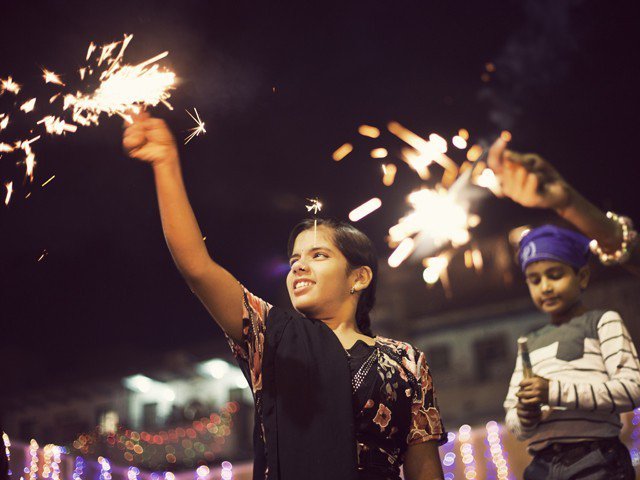 ---
LAHORE: Scores of Muslims and Christians joined the Hindu community to mark Diwali—the festival of lights—on Tuesday, the penultimate day of the festival.

A ceremony was organised in this regard by Kawish Resource Centre. Addressing those present on the occasion, Amarnath Randhawa of the Hindu Sudhar Sabha said Diwali symbolised prosperity and light. He said it represented the triumph of good over evil.

Randhawa rapped the Narendra Modi-led National Democratic Alliance (NDA) government for stoking communal unrest in India. He said the antics of Shiv Sena violated the tenets of Hinduism. He said Pakistan's Hindu citizens condemned atrocities against Indian Muslims.

Christian representative Brother James said participating in the ceremony made him feel ecstatic as he felt this was a place where everyone could be in harmony with each other. He said one could see lights everywhere on Christmas in the United States. He said Diwali and Christmas were similar in this regard as both were premised on lights.

Hafiz Muhammad Nauman of the World Council of Religions said he believed the fact that he was not well acquainted with Hindu teachings was a fault of his. He said most Pakistani Muslims hesitated even to recognise Hindus as equal human beings. Nauman said this was the result of an anti-Hindu conspiracy. He said he had gone to a Hindu temple to take part in Diwali celebrations last year. He said that had done nothing contrary to his personal religious beliefs.

Student Aroon Kumar said Diwali was a festival of gaiety. He said it was celebrated to mark the triumph of good over evil. Kumar said the festival furthered the message of peaceful coexistence.

Diwali or Deepawali, is celebrated in autumn every year. It is one of the largest and brightest festivals in India. The preparations for and rituals associated with the festival typically extend over a five-day period. The main night of Diwali coincides with the darkest, new moon night of the Hindu Lunisolar month of Kartika.

Before Diwali, people clean, renovate, and ornament their homes and offices. On Diwali night, Hindus dress in their best outfits, illuminate premises with lights and earthen lamps and pray together before Lakshmi and Ganesh. Fireworks and feasting follows the conclusion of prayers. Gifts are exchanged among close friends and family.

Diwali is also marked by Jains, Sikhs and some Buddhists. The festival is an official holiday in Nepal, India, Sri Lanka, Mauritius, Guyana, Trinidad and Tobago, Suriname, Malaysia, Singapore and Fiji.

Published in The Express Tribune, November 11th, 2015.