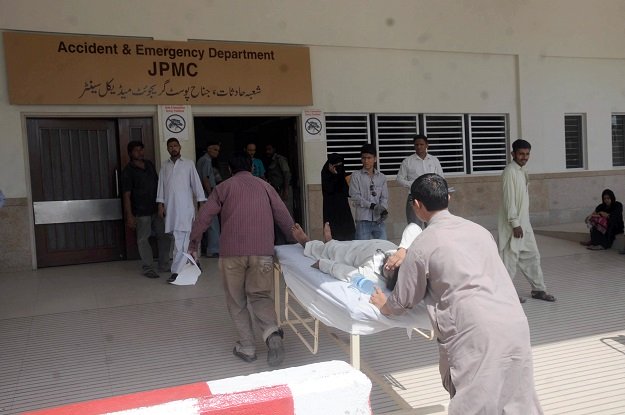 ---
KARACHI: The people of Karachi will have to face hot weather for more two days, warned officials of the meteorological department, adding that the temperature of the city will get back to normal on Tuesday.

Met department officials and doctors have advised the residents of Karachi to not to leave their homes unless for an emergency. During direct exposure to sunlight, a cloth soaked in cold water must be kept to cover the head, they advised.

The maximum temperature on Saturday was recorded at 41˚C. However, the mercury dropped to 37˚C by the evening. Met officials warned that the temperature of the city is expected to rise on Sunday.

According to met official Abdul Rashid, the temperature on Sunday may get as high as 44˚C. He added that the weather is still unexpected in Karachi. Rashid said the same hot weather will be experienced in other parts of Sindh. He said the officials of the met office have already informed the Sindh government and the Provincial Disaster Management Authority about the likelihood of high temperature, and have asked them to take precautionary measures against another possible heatwave.

"We are also in touch with commissioner Shoaib Ahmed Siddiqui and he has assured us that the city administration is prepared this time," said the official.

While he urged the people of Karachi to take precautionary measures, he said that this heatwave is not as severe as the one in Ramazan. He advised everyone to avoid leaving their homes during peak hours (11am to 4pm) and to keep a water bottle if they are outside home. Drink juice or an energy drink if you feel dehydrated and, if you feel the symptoms of a heatstroke, then make sure to drink ORS, he added.

Fortunately, Saturday's heatwave did not cause any casualties. Talking to The Express Tribune, Dr Seemin Jamali of Jinnah Postgraduate Medical Centre confirmed that no heatwave victims were brought to her facility.

"Over 1,300 deaths were reported during Ramazan because the relevant departments were not prepared," she said. "But, this time, the health department and the Sindh government have directed the availability of doctors and paramedics staff in all the hospitals round the clock."

She further advised the people of Karachi not to leave their homes during the day and asked the parents to take special care of their children.

Published in The Express Tribune, September 20th, 2015.