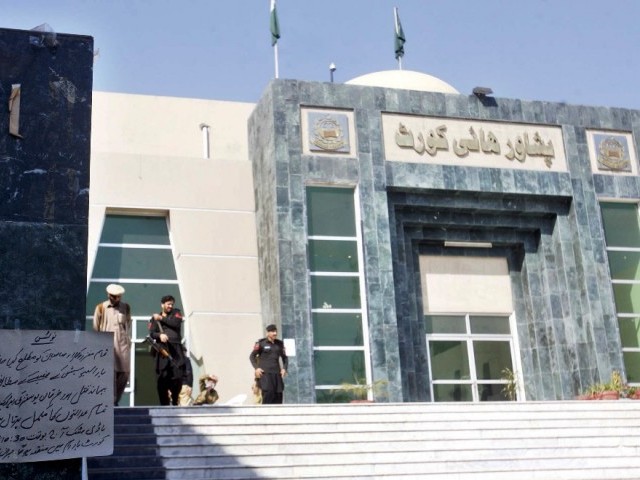 ---
PESHAWAR: The Peshawar High Court (PHC) suspended on Tuesday the execution of a death-row prisoner, who was sentenced to death by a military court for involvement in terrorism.

A two-judge bench comprising of Justice Musarat Hilali and Justice Younis Thaheem suspended the sentence till September 8 and asked the ministry of interior, general officer commanding Malakand, Khyber Pakhtunkhwa, IG prisons and home and tribal affairs department secretary to respond to the petition by filing writing comments.

Haider Ali, 21, was given to the 24th Unit of Baloch Regiment in Swat on September 21, 2009 by a local jirga. He was then 14 years and eight months old and a 10th grade student at the Malakand Public High School, Swat.

His hanging was suspended after his parents filed a petition in the PHC, challenging his death sentence.

Read: Supreme Court upholds establishment of military courts

The counsel argued the convict was juvenile at the time of arrest, and that neither the family was provided details of the trial nor the convict was given lawyer access.

Ali remained missing for many months but later the family came to know he was in confinement in internment center Timergrah and awarded death sentence on June 27, 2015, the counsel said.

Ali's father Zahir Shah had earlier approached the Supreme Court, seeking a copy of the relevant documents of the case's proceedings and conviction handed out by the trial court in Swat.

The Parliament had passed the 21st Amendment and the Pakistan Army Act, 1952, to establish the special courts after the Peshawar school attack in December 2014.

On August 13, a military court had sentenced seven men for their involvement in the APS attack. Six of the men were given death sentences and the seventh man was sentenced to life. Another terrorist, involved in the attack on Rangers in Karachi, was also sentenced to death.

Read: Father of man convicted by military court seeks details of proceedings

Earlier this month, the Supreme Court dismissed all petitions against the establishment of the controversial military courts in a majority vote.

The apex court, in an 11-6 decision, dismissed a slew of petitions against the 21st Constitutional Amendment, wherein military courts have been established to try militants.

The court, however, stated that all decisions of military courts would be subject to judicial review.