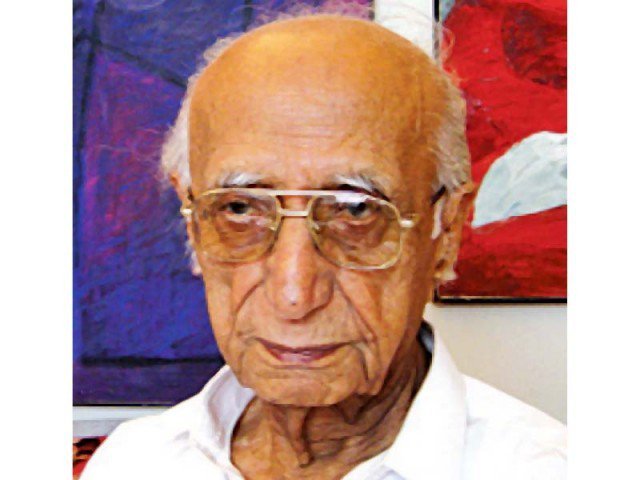 ---
KARACHI: Sindh Madrassatul Islam University (SMIU) organised an event on Saturday to celebrate the presence of a living legend and pay tribute to his services to education and politics.

The ceremony glorified the life of Muhammad Ibrahim Joyo and launched the translations of his biography in English and Sindhi. The event was held at the Pearl Continental hotel.

"We are lucky to be siting with a living legend today," said the SMI vice-chancellor Muhammad Ali Shaikh. He termed Joyo as the voice of the century.

Read: Celebrating a legend: A tribute to Ibrahim Joyo's progressive thinking

"SMI is lucky to have produced leaders like Muhammad Ali Jinnah and Muhammad Ibrahim Joyo," said Shaikh. Joyo is one of the pioneers of the secular movement in Sindh who tried his best to make Sindh a peaceful province, he added.




Born on August 13, 1915, in village Abad, located in present day Jamshoro district, Joyo acquired his early education from the local schools and passed his matriculation in 1934 with a distinction from SMI. He graduated from Dayaram Jethamal College, Karachi, in 1938 and started teaching at SMI in April 1938, where he stayed for the next two years.

Read: Honorary corner: Joyo's works to be celebrated till his 100th birthday

In 1941, he completed his Bachelor's in teaching degree from Bombay, India. Upon his return he resumed to teach at the SMI until the year 1947.

The same year, his first book, 'Save Sindh: Save Subcontinent from Feudal Lords, Capitalists and Communalism' was published   Joyo thanked Sheikh for arranging the ceremony. He also thanked the teachers and the notable students of the SMI, for attending the event.

"My aim in life has been to see a peaceful and a prosperous Pakistan," he said. My life-long contributions to the fields of learning, writing, teaching and education have been my political services for the people, he added.

Joyo has written, translated, and edited hundreds of books and political pamphlets. He has also translated the works of Karl Marx, Byron, and T.S. Elliot into Sindhi.

Published in The Express Tribune, August 2nd, 2015.